If you saw my Facebook Live from a few weeks ago, you know I was attending the annual Johnsville Labor Day Auction.  This is one of my favorite auctions to attend!  I love how diverse the good are at this auction.  Since the items are not from one single estate, there are usually a ton of options (especially furniture).  Grab a cup of coffee and enjoy my auction recap! 
I was looking for specific items at this year's Labor Day auction.  We are expecting to move into our new home next month, so I really wanted to find a few pieces to fill some spaces in our house.  For instance, I was looking for a buffet for the dinning room, a couple of rocking chairs for the front porch and chairs for the kitchen table.
I picked up this rocking chair for $1 and another rocker for $2.  I plan to paint them both black to match our front door and shutters.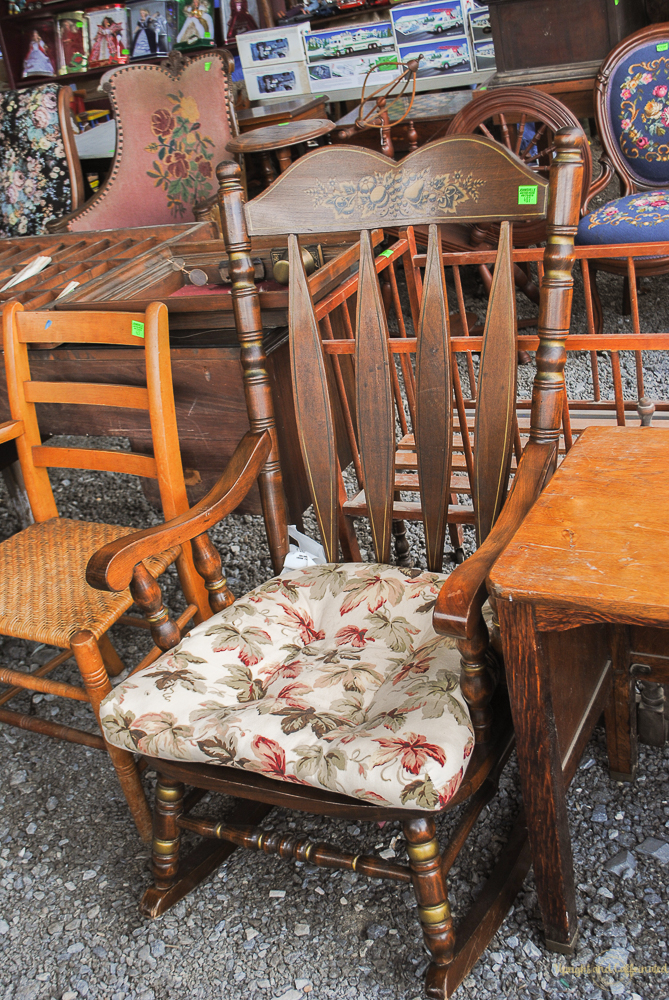 There were tons of vintage windows and a few salvages doors that were calling my name, but until we get settled into our new house I didn't want to buy any large decor items. I would have loved to have bid on that blue door with the glass to replace the laundry room door in our home, but I had no idea if it would fit!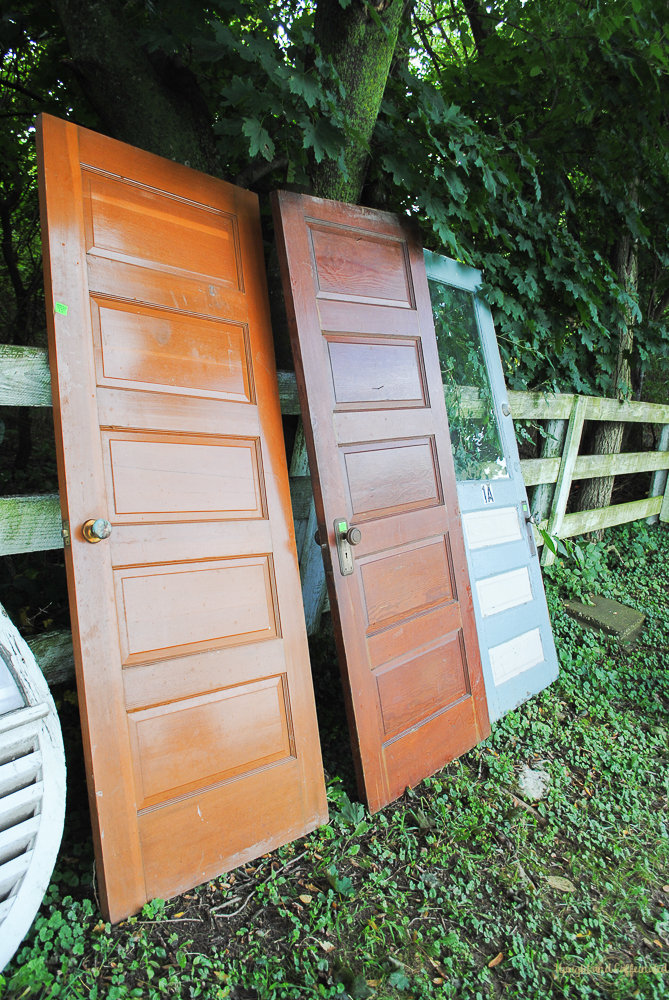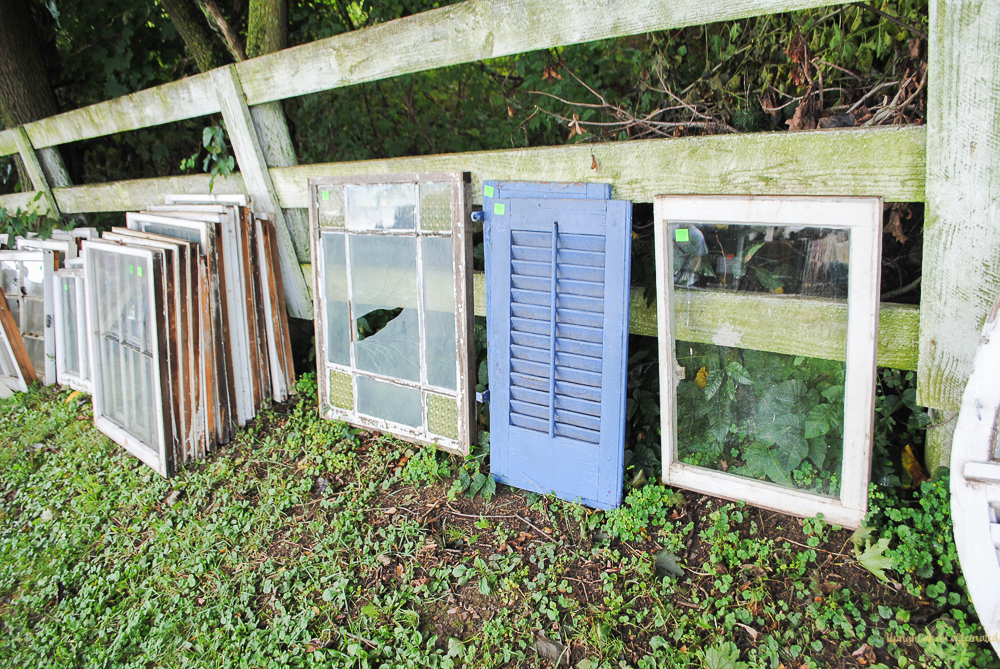 I absolutely loved this round window that was salvaged from an old church.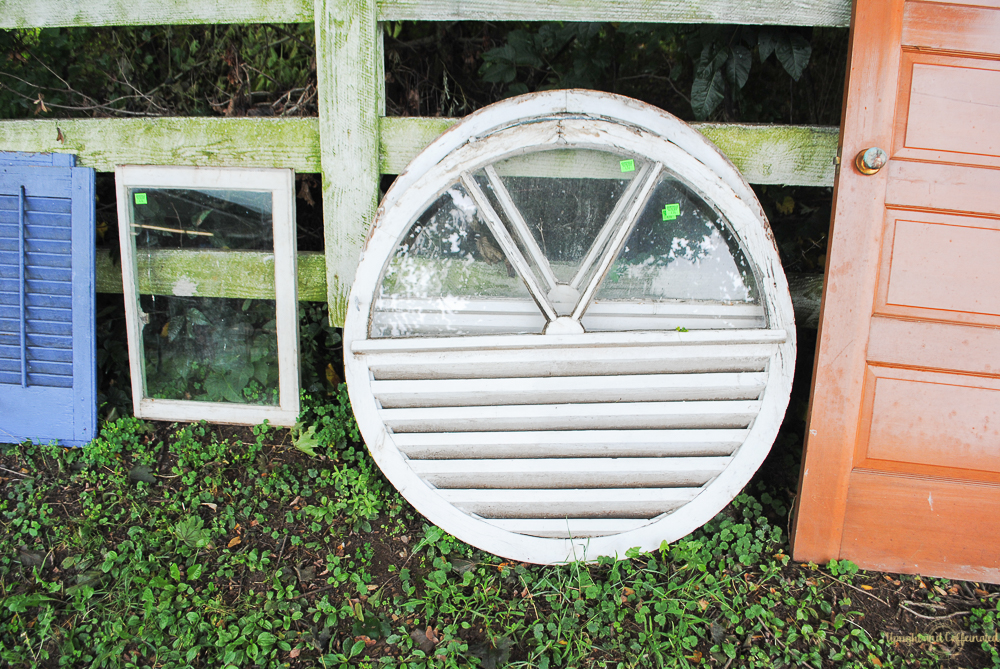 This particular auction had plenty of chairs, but I honestly didn't like the style of any of them enough to bid on them.  I did bid on a set of three bar stools, but once the bidding got above $45, I bowed out.  These stools needed a lot of work and since I can buy brand new bar stools online at Target for less than $100 each, I figured it wasn't worth it to continue bidding on these.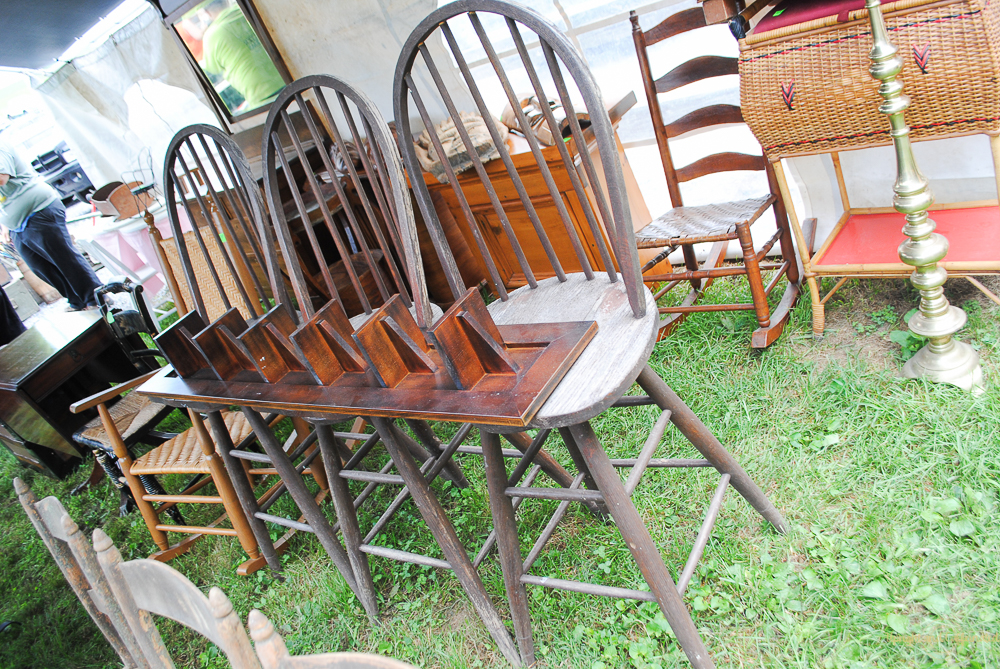 My husband was drawn to a black bench for our front porch.  He snagged this one for $90.  It is in EXCELLENT shape.  I'm going to try to paint over the gold floral detail at the top and leave the rest of it alone.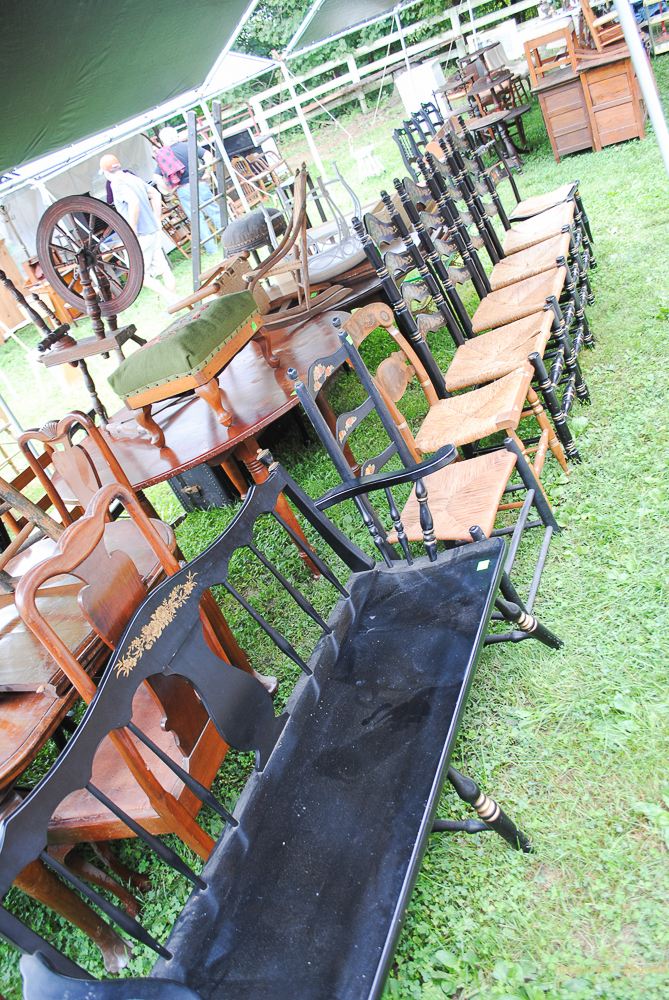 Another item we were both eyeing was this gorgeous stained glass piece.  It went for well over $400 (we did not bid on it).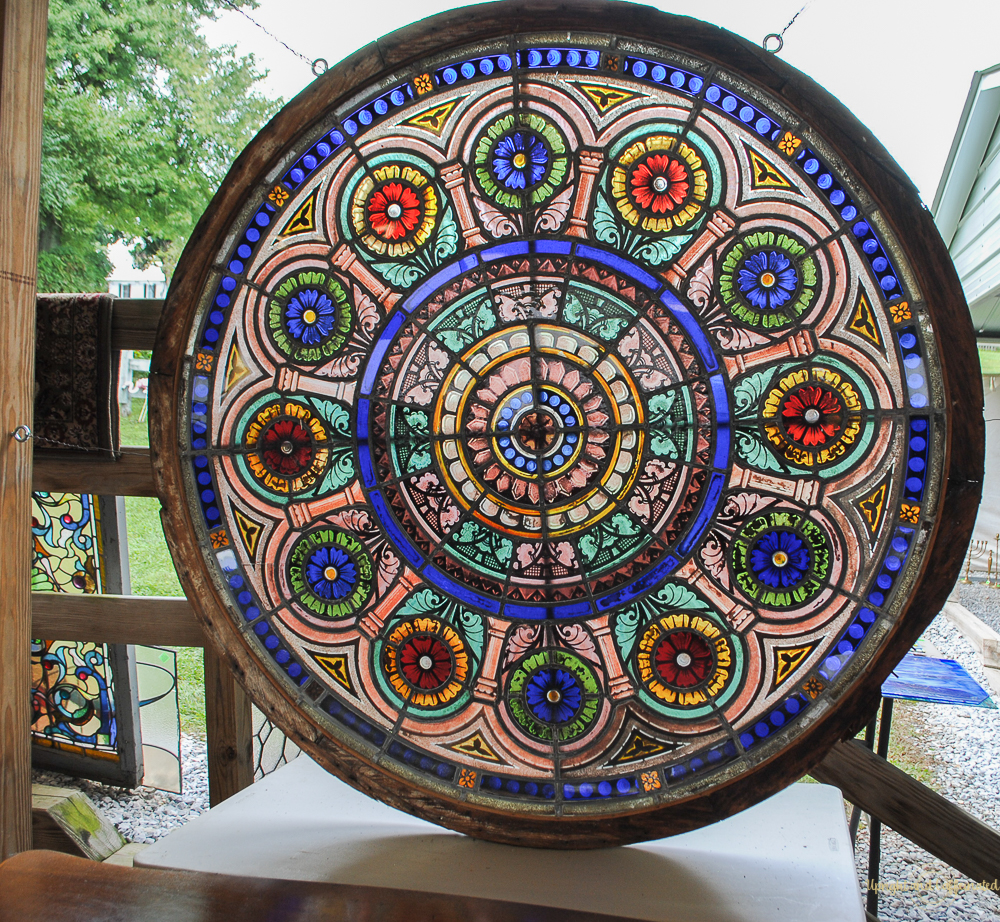 ---
Want to Learn More About Auctions?
Sign up for my free guide to attending auctions! Get it HERE!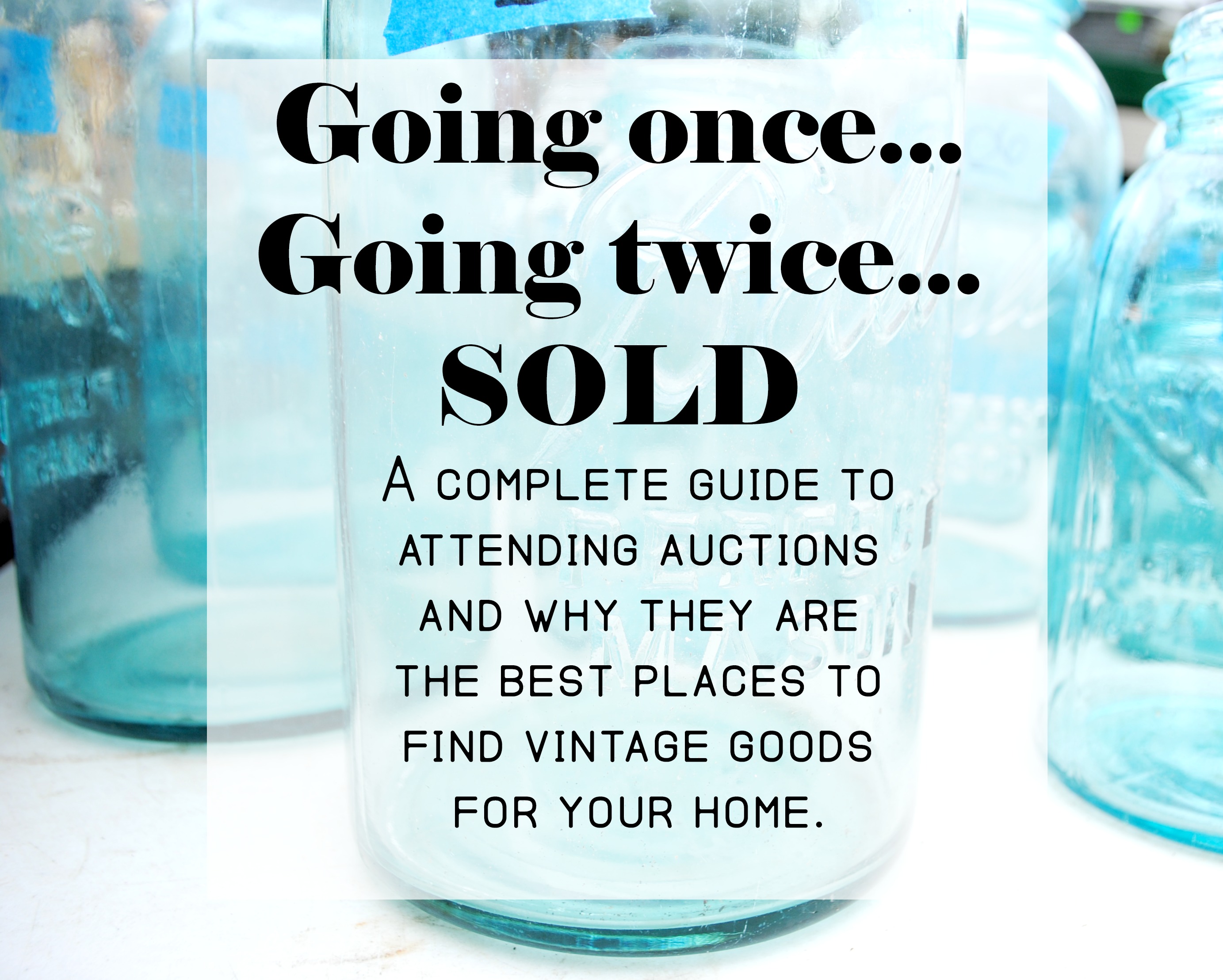 ---
Another item I bid on was this buffet.  Although I was not a fan of the extravagant top, I loved the shape of the bottom of the piece, and the drawers were in great condition.  The top could be easily removed by unscrewing and removing the stabilizing wood in the back of the buffet.  I stopped bidding at $110 and the buffet was eventually won by a professional picker who paid $190 for it.
I spoke to the gentleman who purchased this piece and he informed me that he has a few other pieces similar to this in his inventory.  He gave me his number and I plan to contact him if I can't find something on my own.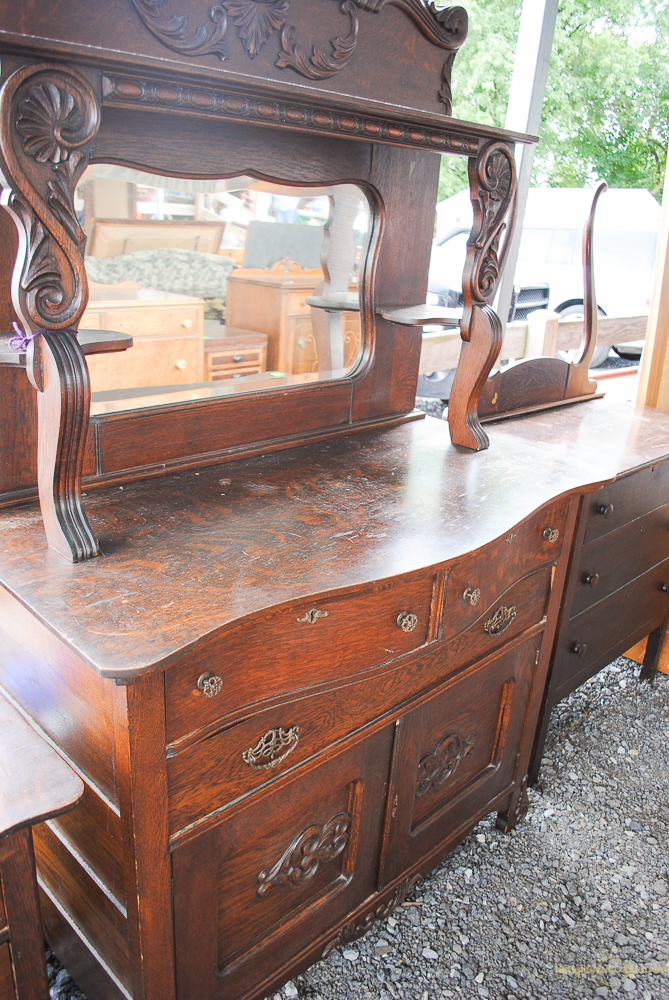 In addition to all of the furniture that was being auctioned off, there was a ton of small home decor items.  Lots of vintage, blue Ball Mason jars, pottery, galvanized tubs, copper pots, lamps, baskets and bottles.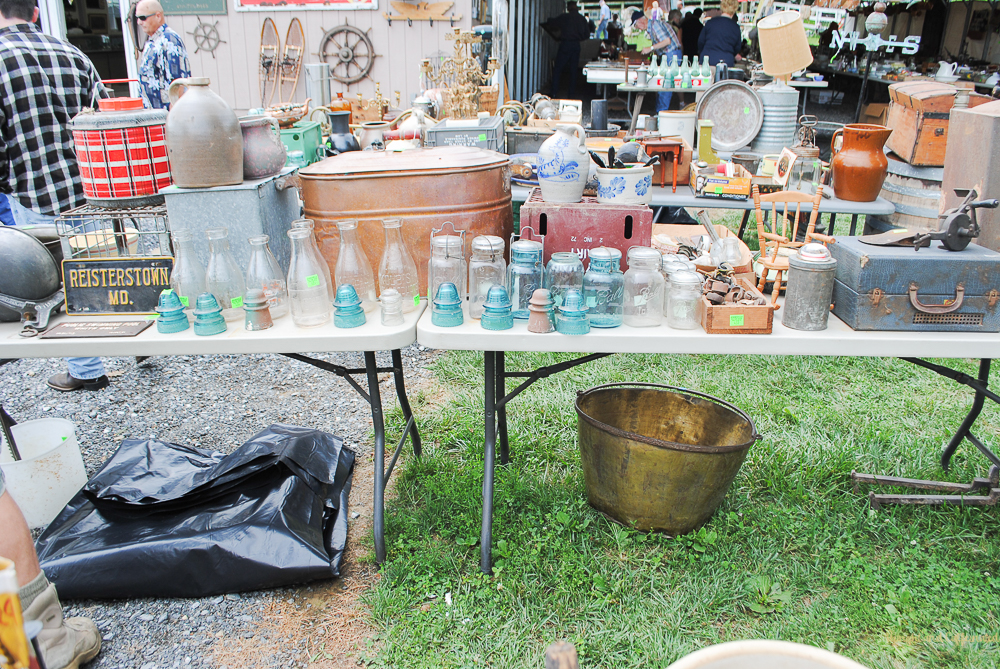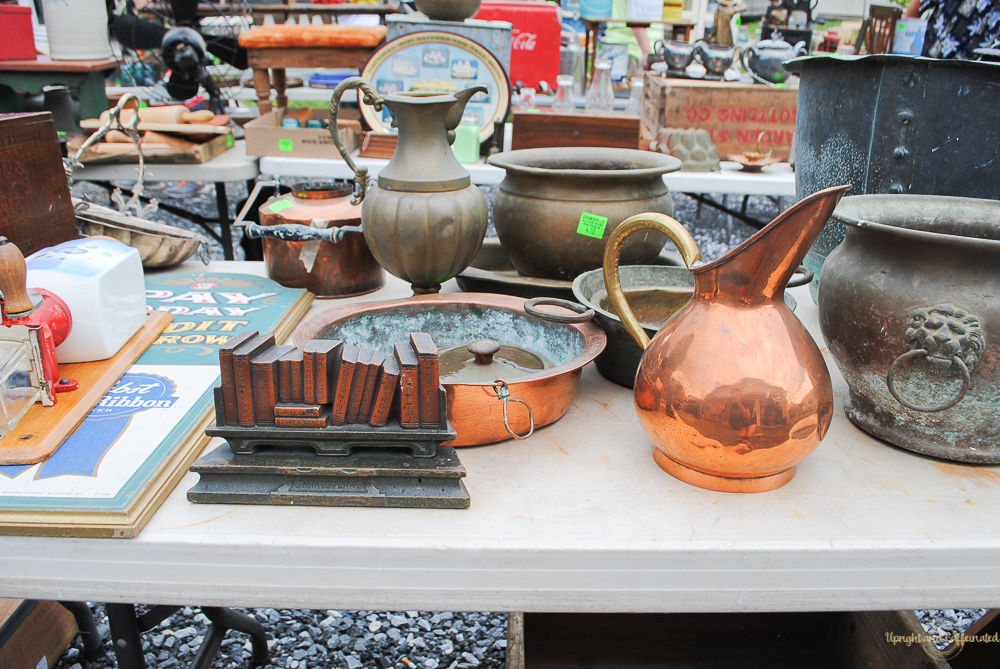 Overall, I had a good experience at the Labor Day auction this year.  It seemed that there were more people there for the furniture than in years past, which of course drives the bidding higher.
The best part of the auction was meeting a professional picker and getting his information.  He travels all over MD, VA and WV attending auctions and then turns around to sell those items to wholesalers.  I was absolutely fascinated by what he does and how he decides when to stop bidding.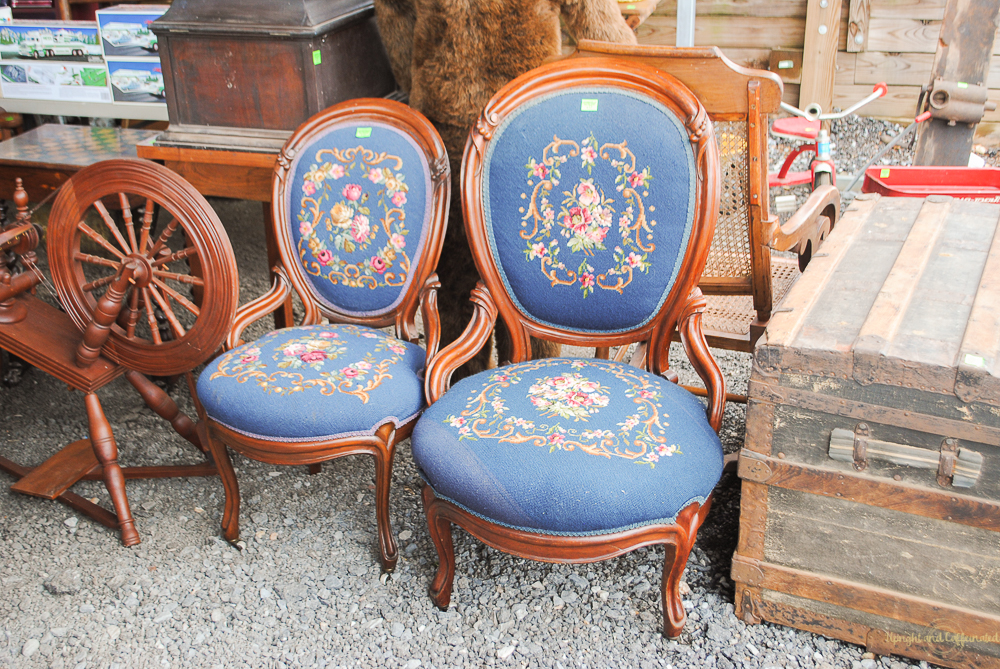 When you are bidding on something you want for yourself, it is easy to set a limit.  For instance, there was a ceramic pig that was kind of cute.  I told my husband that I would bid on it if it was under $10.  That pig ended up going for $45!  I was shocked- you could get a similar pig at Home Goods, Target or World Market for probably $19.99.
Attending an auction is a great experience.  I learn something new with every auction I attend. Sometimes I leave with a truck-load and other times I leave empty-handed, but the experience is always worth it.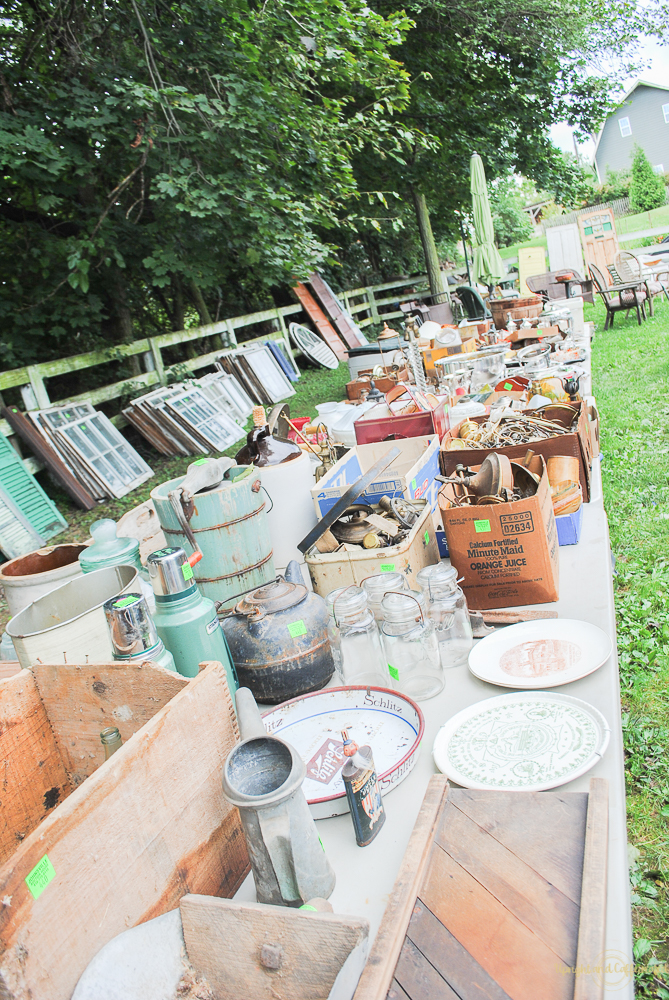 If you are interested in learning more about auctions, don't forget to sign up for my free guide to attending auctions!