Good day friends!  I have been wanting to share this post with you for a while, but have been crazy busy with kids and life in general!  A few months back (8 months to be exact) I purchased this antique dresser from and auction, and a few months after that (5 months later) I got around to restoring it.  Come along for the ride as I show you how to restore a vintage dresser.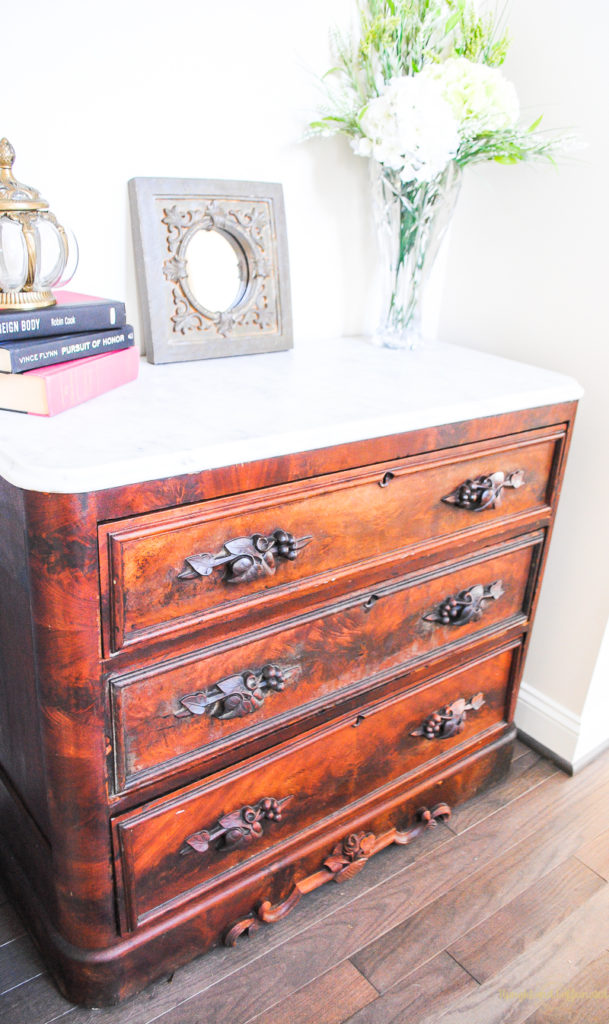 Like I said, I purchased this at an auction.  I actually purchased this piece at the Johnsville Memorial Day Auction (check out my recap from the Johnsville Labor Day Auction).  I paid $35 for this marble-top antique dresser.  Yup- just $35!  If you love vintage furniture, you are more likely to find quality, antique pieces at an auction than at a local thrift store.
Want to learn how to score big at Auctions?

So the marble-top antique dresser sat in my in-law's garage for about five months before I finally decided to restore it.  I contemplated painting it, but the dresser was so beautiful, I really just needed to bring out the natural beauty.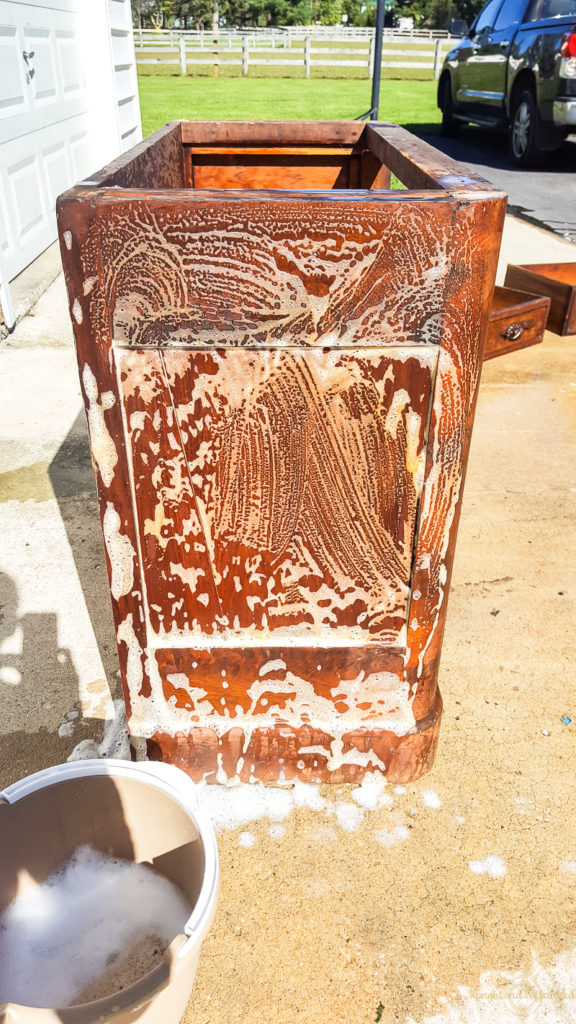 First, I washed the entire piece with a mixture of mild dish soap and water.  I did not want to use any harsh chemicals on this vintage piece and risk ruining the finish completely. With a scrub brush and a soft cloth, I washed with the soapy solution and then rinsed with clean water.  I left the drawers out to make sure they completely dried.  If you are washing off a piece of antique furniture, I suggest doing it during the day on a warm, sunny day to ensure the wood dries before you being working on it.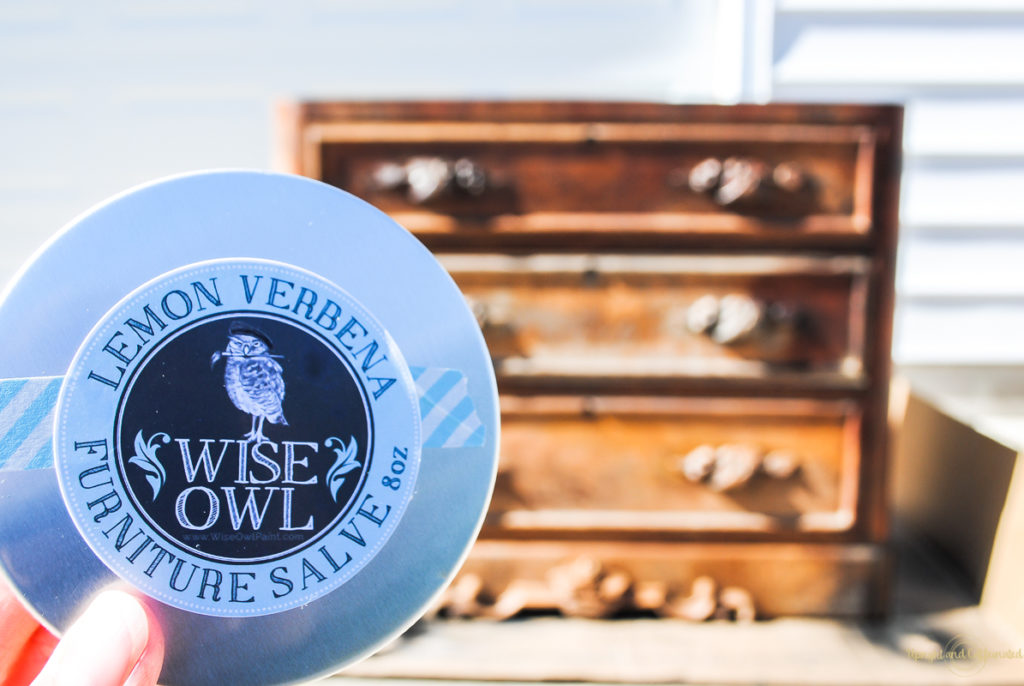 Since I decided not to paint this antique dresser, I needed to find something to bring out the natural beauty.  My friend Thea over at That Sweet Tea Life is a furniture makeover master!  She suggested I use Wise Owl Lemon Verbena Salve.  Now, I have never, ever used a furniture salve before and was a bit intimidated.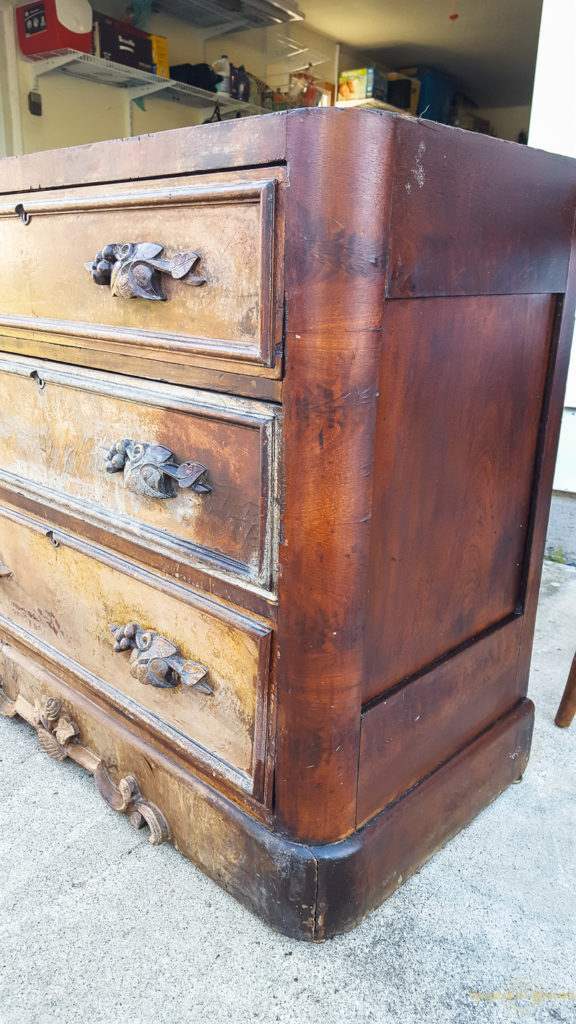 Once it arrived and I started to use it, I felt silly for being intimidated and I was absolutely in love with how it made the antique dresser look.  First of all, the Lemon Verbena Salve is super simple to apply.  I used a large round brush, dipped it into the salve and then applied it as if I were applying wax (in a circular motion).  Making sure to really work the salve into the wood, especially around decorative carvings or details, is important.  I used a clean white cloth to wipe off excess salve on the wood.
PIN IT ⇓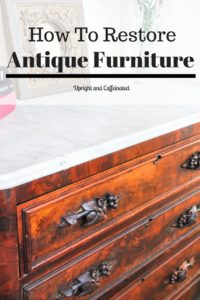 The transformation was absolutely amazing!  Check out this picture: I started using the salve on one side of the dresser and you can clearly see the difference where I had applied the salve and the untreated wood.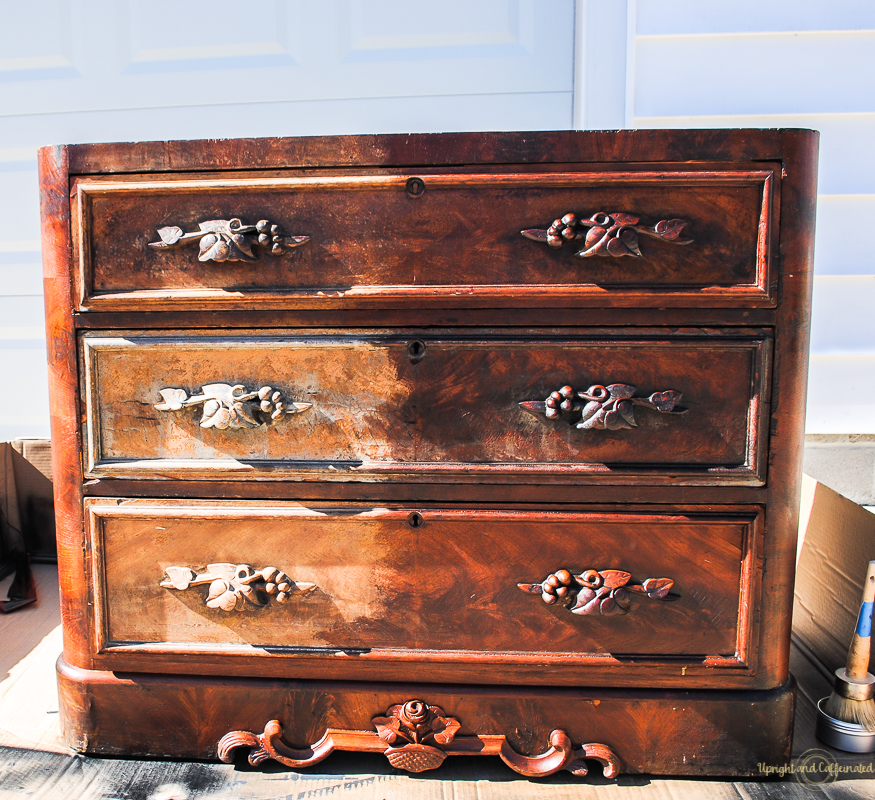 The salve truly brought out the gorgeous wood tones and gave the entire dresser a rich look.
Have I mentioned the smell?  The Lemon Verbena scent is so clean and smells fabulous.  Wise Owl also makes a Lavender Salve too!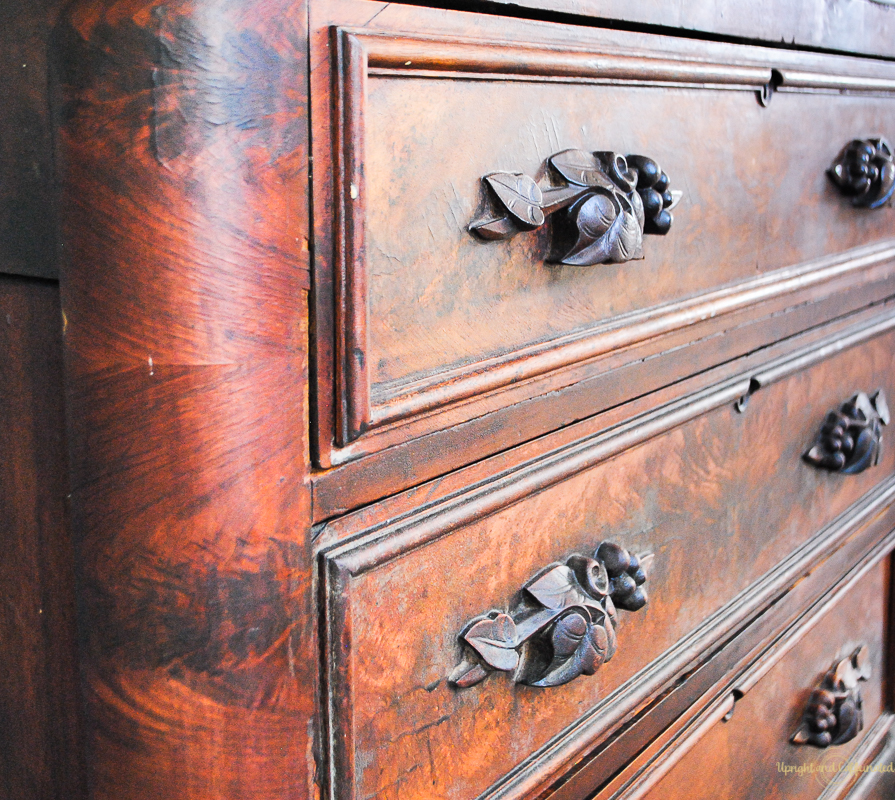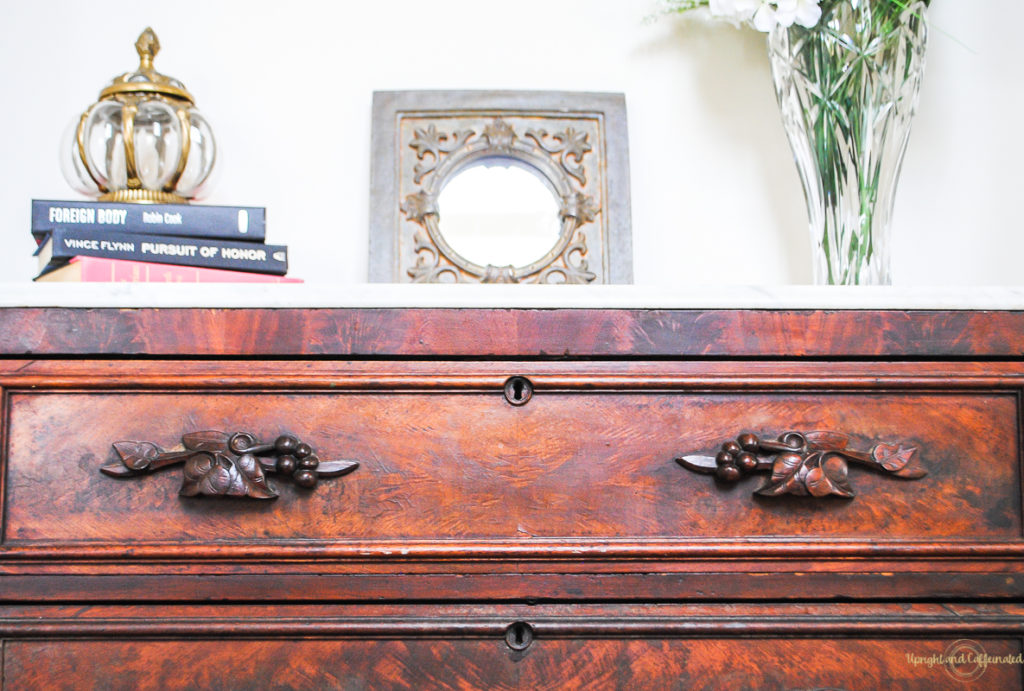 The marble top of the dresser had some discoloration and rust stains.  I used this tutorial from Lauren at Bless'er House to clean the marble.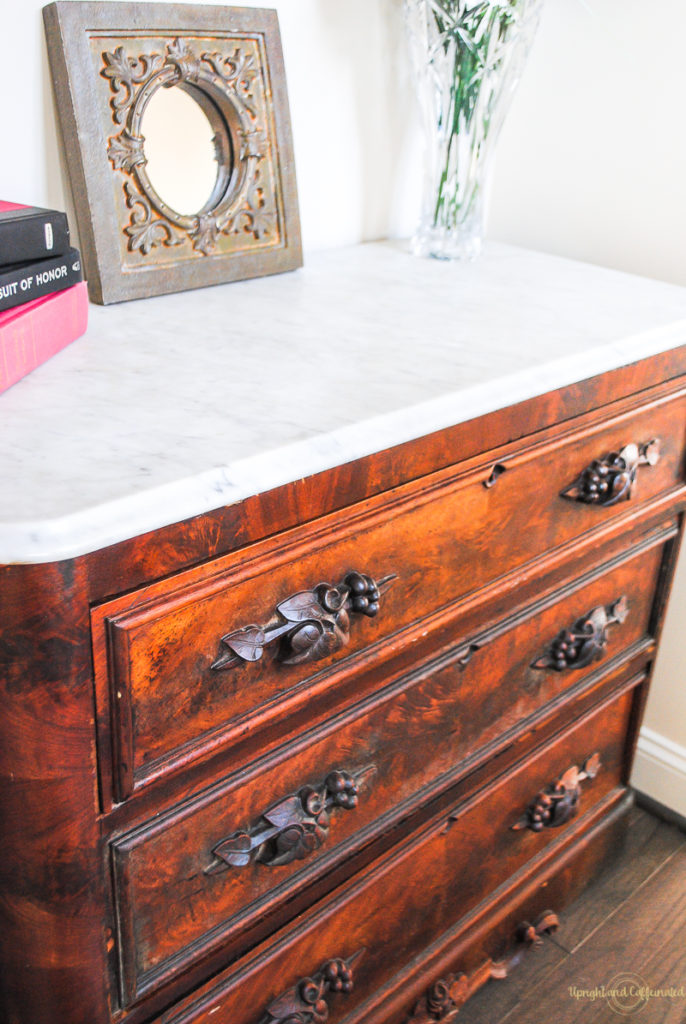 I am so pleased with how this antique dresser turned out!  If you are looking for vintage furniture, please check out local auctions or even online auctions.  If you don't know where to start, scroll up and grab my ebook!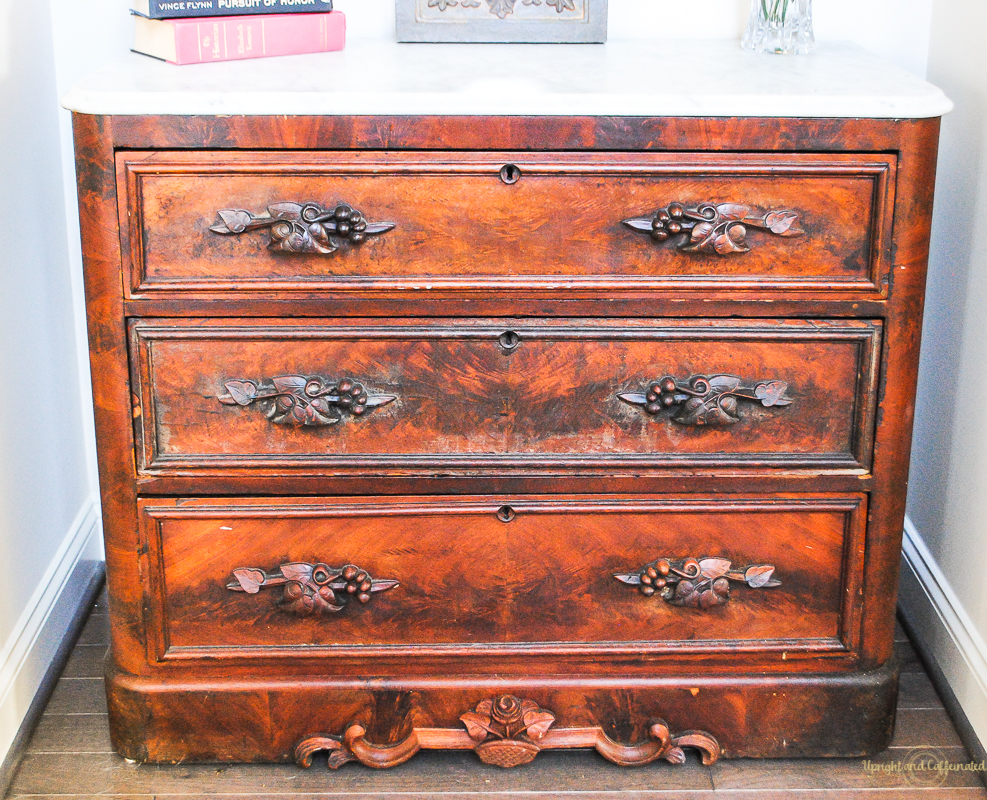 My house is a combination of vintage, antique furniture and modern colors and patterns.  This marble top dresser fits perfectly with the style of our home and is the perfect piece to welcome guests in our front foyer.
---
This post includes affiliate links to products.  I may receive a commission if products are purchased through the provided links.  My full disclosure statement can be found here.