Have you tried painting furniture and failed? Or have you wanted to paint a piece of furniture, but felt intimidated or scared to go buy expensive paint?  Well, guess what?  You can sprat paint furniture.  Yes- you can!  I did it to my kitchen chairs and they turned out GREAT!  Today I am going to show you a no-fail way to spray paint furniture.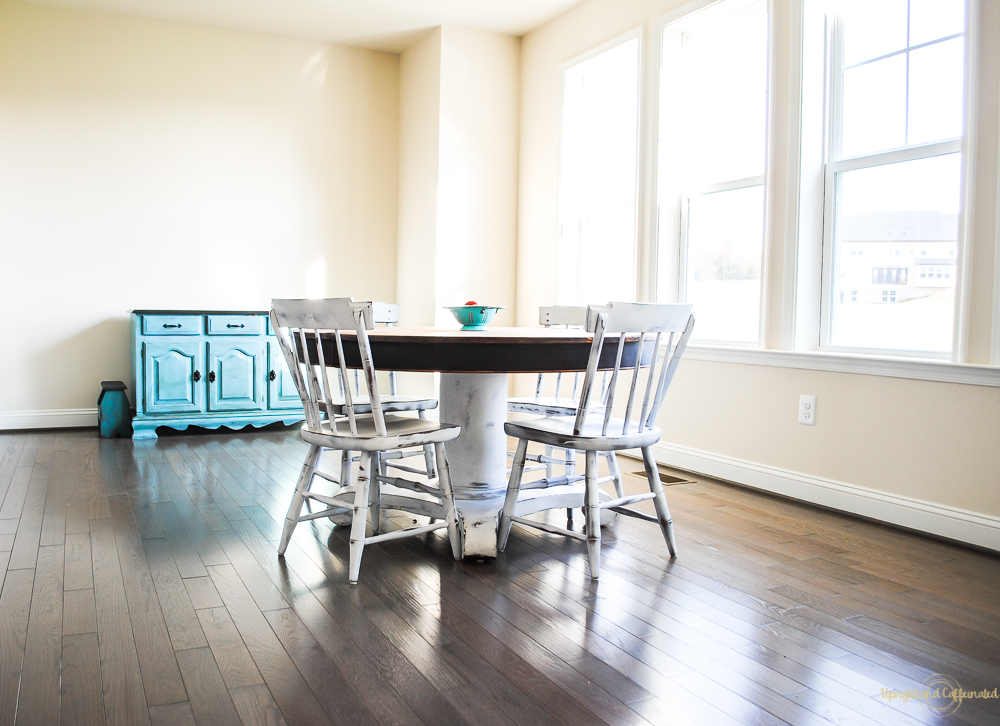 I started painting furniture years ago before it was a thing.  My parents had this old armoire that looked outdated.  They were thinking of getting rid of it until I suggested we paint it with simple white paint my dad had in the garage.  It wasn't special furniture paint, but it worked and it completely changed the look of the armoire.  Since then, my mom has bought chalk paint and re-done the armoire, but the point was that a simple coat (or 2 or 3) of paint can completely revive a piece of furniture.
So if you are looking for a change, or thinking of getting rid of a piece of furniture, consider painting it with this method.  What do you have to lose?  If you hate it, you can get rid of it! But, I have a feeling you will LOVE it!
---
This post includes affiliate links to products.  I may receive a commission if products are purchased through the provided links.  My full disclosure statement can be found here.
---
What you Need:
Spray Paint (I used this exact kind)
How to Spray Paint Furniture:
First, begin with a clean piece of furniture.  It is truly important to prep your piece.  I like to clean wooden furniture with mild soap (I use dish soap) and water.  You need to make sure the furniture is clean of dust, dirt or any foreign substance.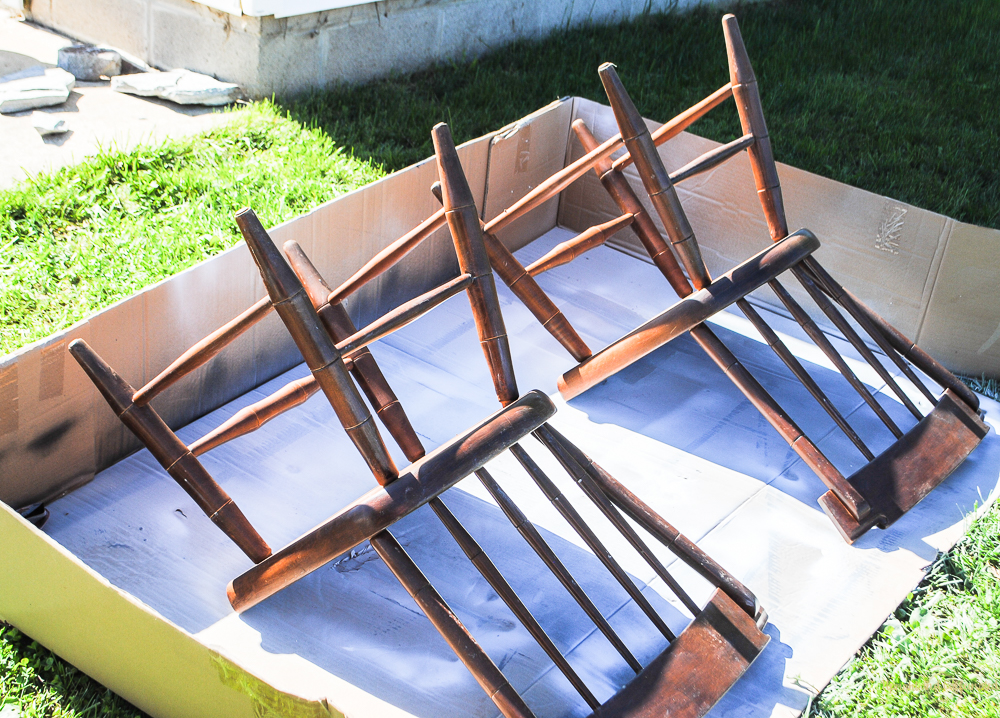 Since I buy most of my wooden furniture from auctions, I have no idea where they came from or where they were stored, so cleaning is a must!
Want to learn more about finding furniture at auctions?  Click here!

Once your piece of furniture is clean and dry, you can begin painting.
Make sure to read the directions on the can of spray paint.  Most require that you shake for at least a minute before using.  Don't skip this step!
PIN IT ⇓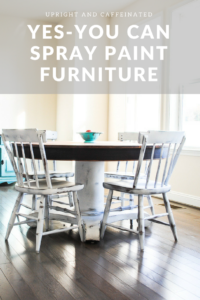 Also, check the directions for how far away you need to be to spray.  If you are too close to the piece, your paint might drip.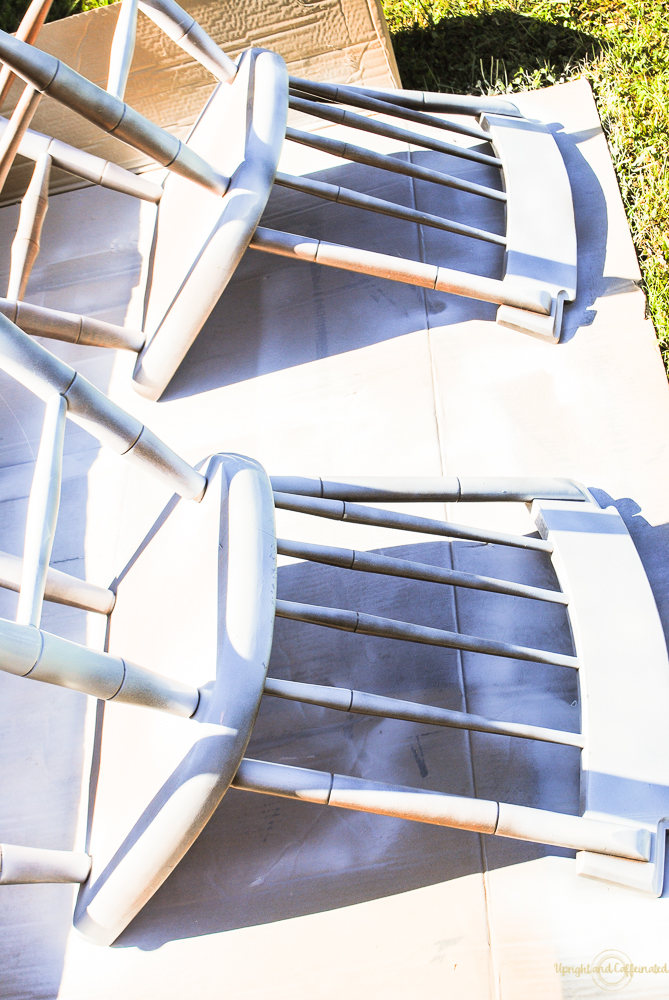 If you are spray painting outside, pick a dry, sunny and non-breezy day!  If it is at all windy, save the spraying for another day, or if you can, get a spray tent or spray in your garage (with the garage door open).
Spray a light coat on your furniture.  You will spray more than one coat- the first coat is just the base coat and it will not be a full-coverage coat.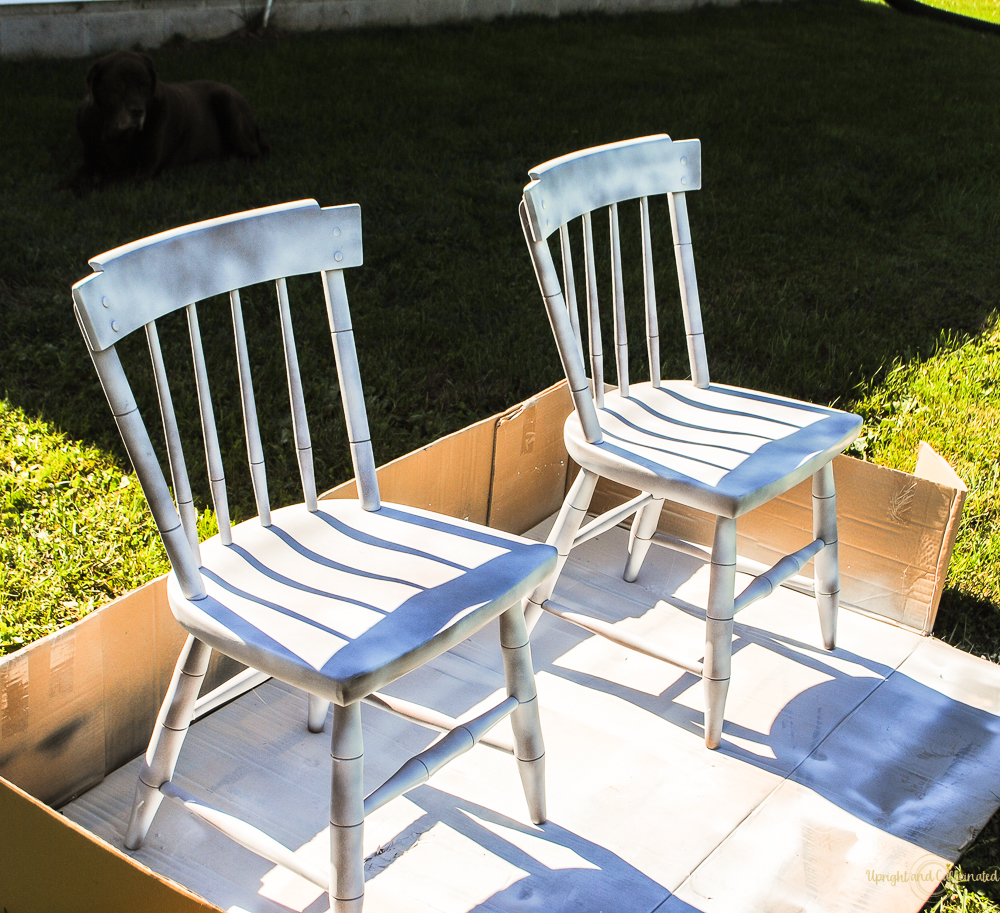 Again, check the directions on the spray paint to see how long to wait between coats, but generally a few hours is enough time between coats.  Repeat the spraying (making sure the shake the can first).  I did three coats on these chairs to get a full-coverage look.  *To spray three coats on four chairs, I used a total of five cans of spray paint.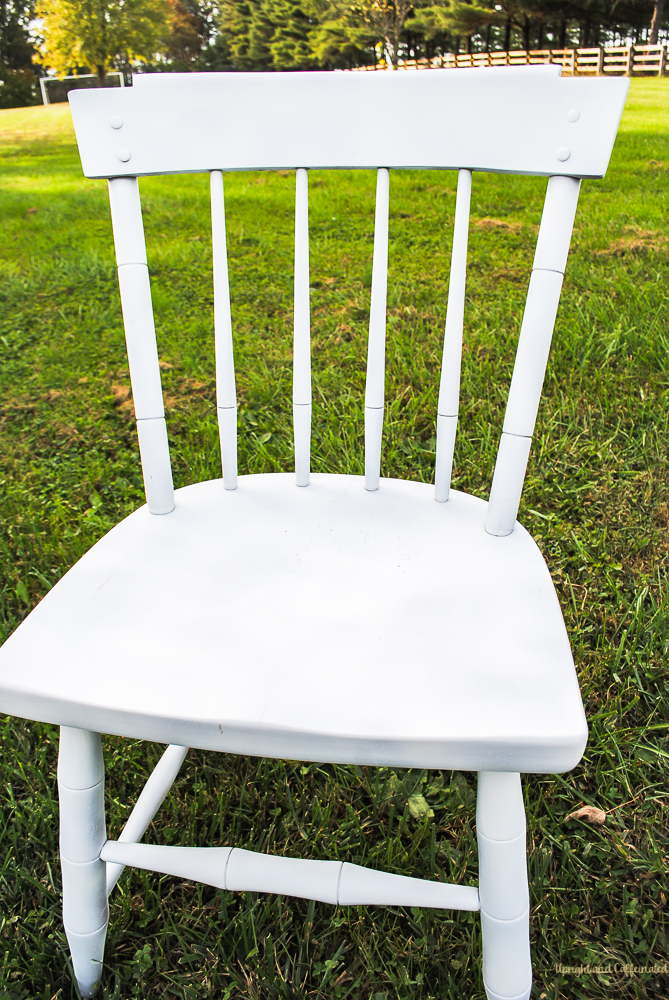 Once the paint has completely dried (I suggest letting the paint dry overnight), you can begin distressing.
Using a fine grit sanding sponge, begin rubbing the sponge over the entire piece of furniture.  Even if you are not looking for a distressed look, this step will simply give the furniture a soft feel.  It removes the rough feel from the paint.  If you are trying to make the paint look distressed, rub harder over the areas you want distressed.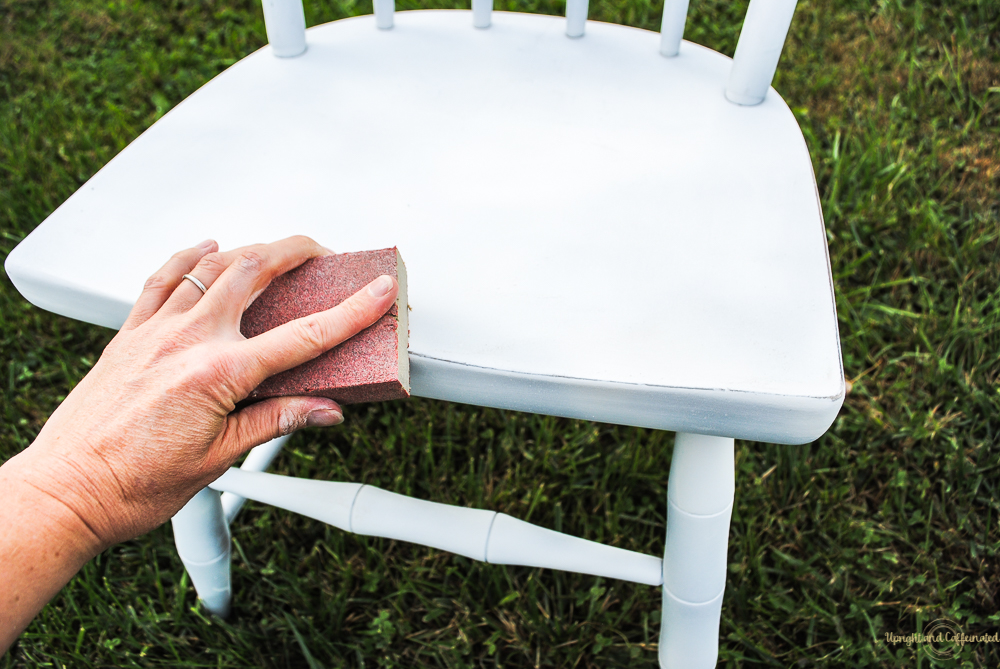 This is a very dusty step, so make sure you do this outside!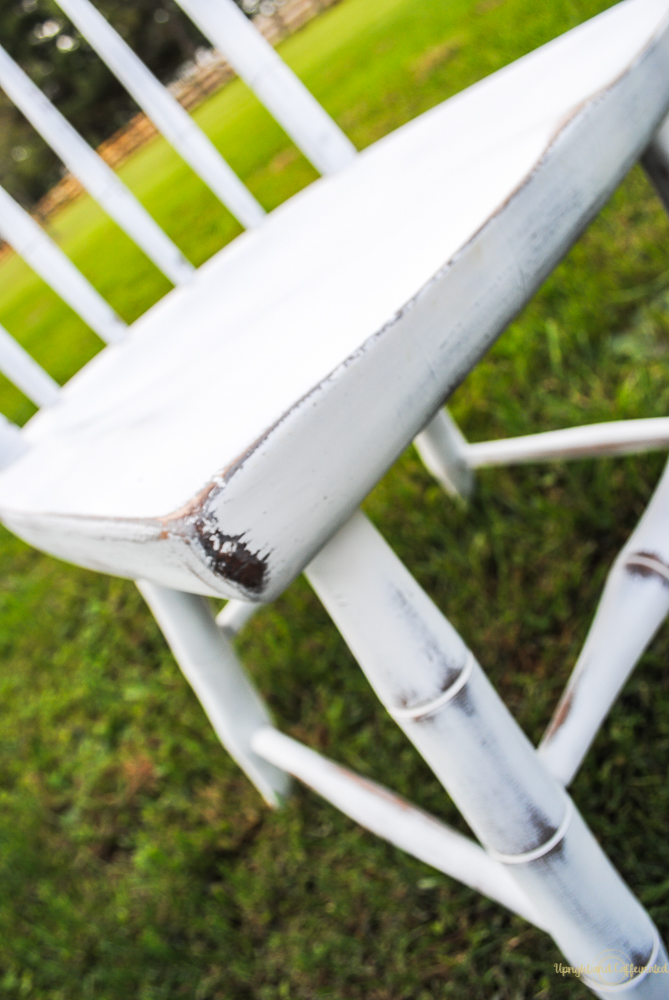 Once you have achieved the look and feel you want with the sanding process, use a clean, dry cloth to wipe away excess dust on the furniture.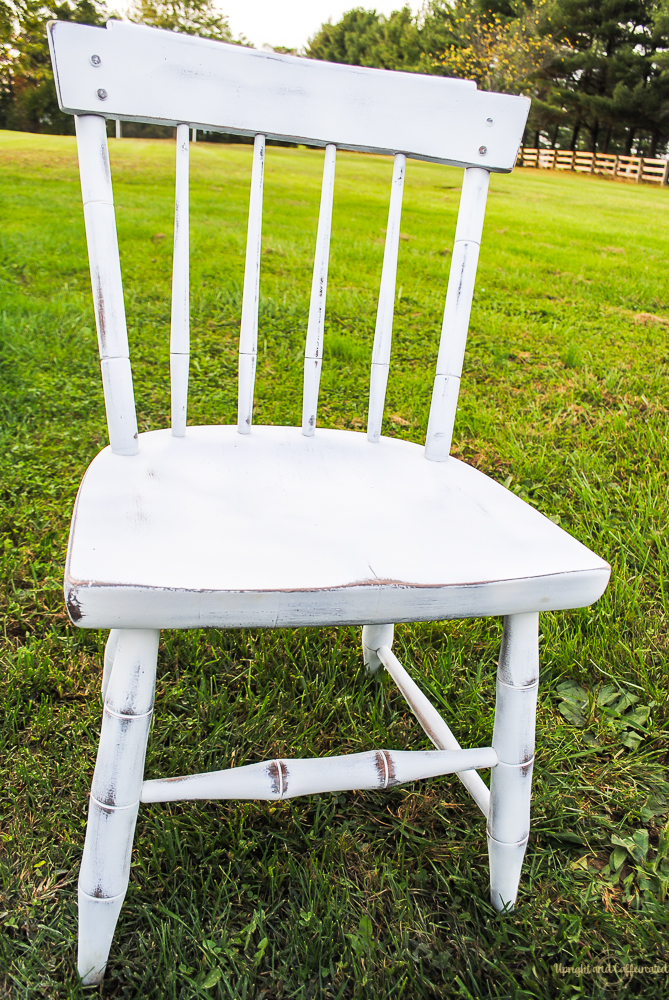 Finally, it is time to seal the furniture.  Since I used spray paint, I wanted to use a spray polycrylic.  This was very simple to use and similar to the steps I used for spray painting the chairs.  The biggest difference, is you sand the polycrylic between each coat rather than at the end.  So, spray the polycrylic on the furniture (make sure to follow the directions on the can), sand and then repeat!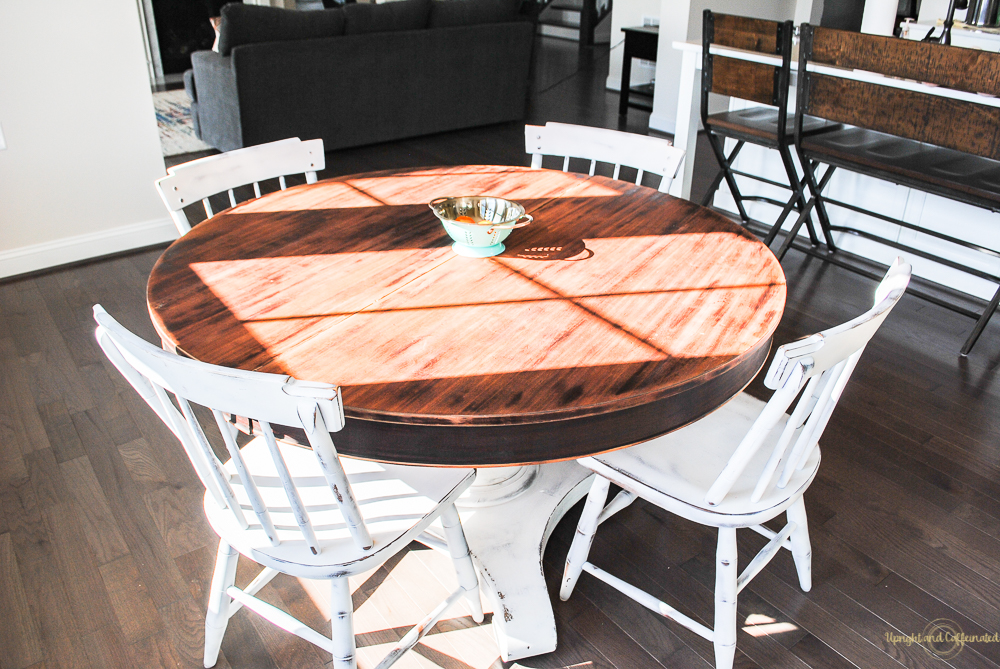 My chairs look fantastic!  I absolutely love how they turned out with using Rustoleum Chalked Spray Paint.  Like I said before, if you have never painted furniture before, this might be a great introduction for you. Yes- you can spray paint furniture and have it turn out beautiful! 
If you still run into problems or have questions, leave them in the comments below. Best of luck to you with your furniture transition.  I'd love to see what you created, so post a pic to Instagram and tag me!