Happy Holidays everyone!  We are in full Christmas mode in our house.  I'm super excited to decorate this year because we just moved into our new house.  Christmas is the first holiday we are decorating for and I can't wait to show you what we have done so far.  I've also joined with some of my talented friends to show you some amazing Christmas trees!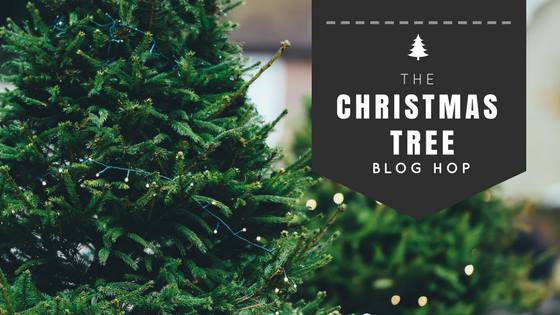 Welcome To Our First Annual Christmas Tree Decor Blog Hop!!
We have 47 talented bloggers joining up to share their decorated Christmas Trees with you! So grab a cup of your favorite beverage, settle in and get comfortable because you are going to love the beautiful Christmas Tree Decor shared today!

Let's Meet The Hosts!
Michelle | Our Crafty Mom | Allison | Upright and Caffeinated
 Angela | Simply Beautiful By Angela
Angie | Knick of Time | Annie | All Things Big and Small
Brittany | Our Home Made Easy | Chloe | Celebrate and Decorate
Cindy | County Road 407 | Colleen | Life on Kaydeross Creek
Denise | My Thrifty House | Eileen | Sand Dollar Lane
Jaclyn | The Dotted Nest | Jeannee | Centsably Creative
Vicki | 2 Bees In A Pod |Jennifer | Oh Fiddle Dee Dee
Jessica | Designers Sweet Spot | Jolene | Create Pray Love
Kim | Made In A Day | Kristie | Teadoddles
Leanna | Faeries and Fauna | Lorelai | Life With Lorelai
Lynn | Lynn's Everyday Ideas | Maria | Simple Nature Decor
Marie | The Inspiration Vault | Mary | The Boondocks Blog
Meegan | What Meegan Makes | Meg | Green With Decor
Melissa | Welcome To The Woods | Donna | Modern On Monticello
Morgan | Charleston Crafted | Nancy | Slightly Coastal
Nicole | Madness and Method | Pam | P.S. I Love You Crafts
Sam | Raggedy Bits | Sharon | Little Bits Of Everything
Shirley | Intelligent Domestications | Stephanie | Abbotts At Home
Yami | The Latina Next Door | Jenn | Loveland Lodge
Christene | Keys To Inspiration | Libbie | A Life Unfolding
Jaclyn | One Thousand Oaks | Jennifer | 2 Bees In A Pod | Sarah | The Project Pile
Disney Christmas Tree
The first tree that has gone up in our house is our Disney tree!  This tree is located upstairs in the hall, between our boys' rooms.  If you love Disney and Mickey Mouse, I think you will love our Disney Christmas tree decorations.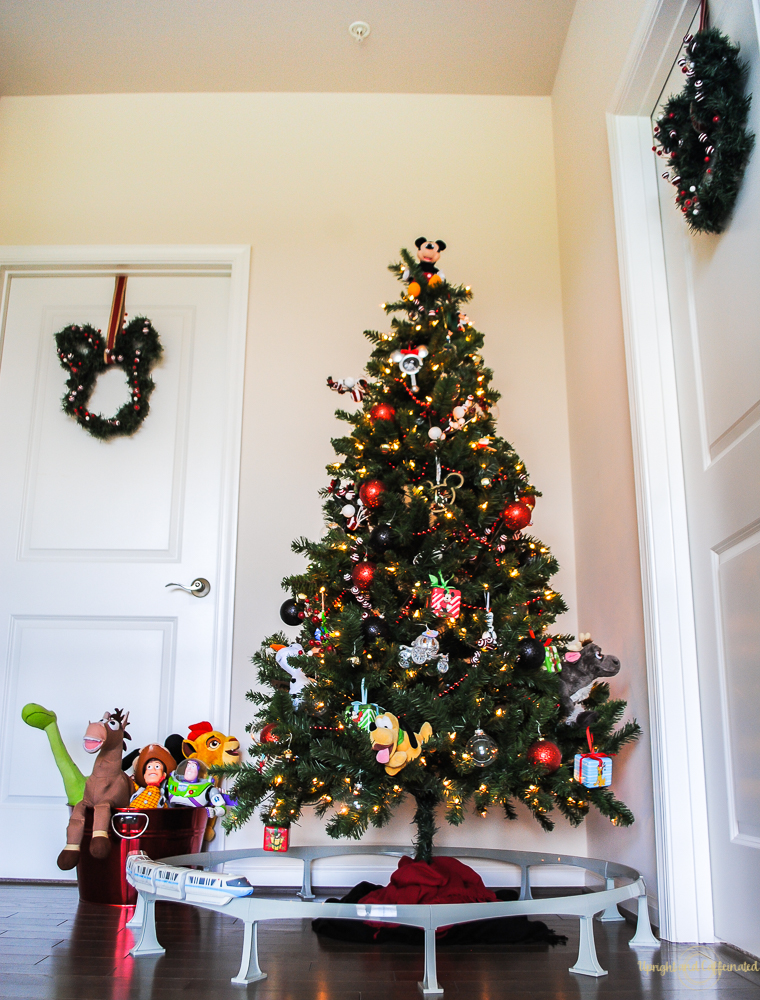 My husband and I both love Disney and we took the boys to Walt Disney World in Florida two years ago around Christmas.  It was absolutely magical!  I wrote an entire post of traveling to Disney World with two kids under 3- check it out here.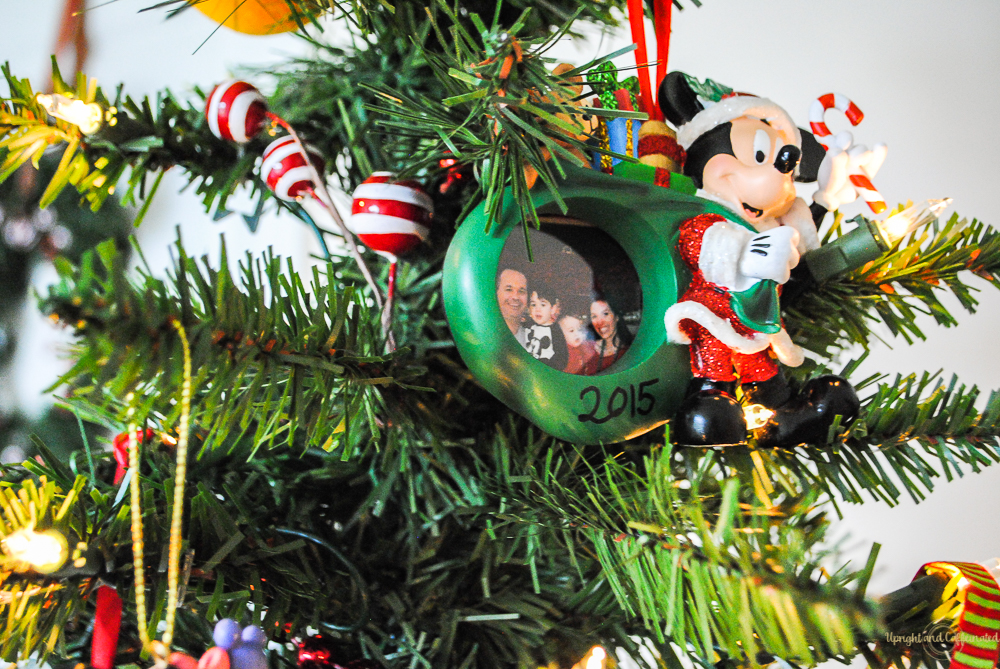 Over the years we have collected quite a few Disney-themed Christmas tree decorations and this year we decided to dedicate an entire tree to Mickey and his pals.  I wanted the tree to be for the boys and have it upstairs close to their rooms.  All of the ornaments are kid-friendly (the balls are either plastic or Styrofoam) and the Disney ornaments are mostly unbreakable (except for a few located at the top of the tree).  I also added stems of berries to fill in the tree.  Here is a list of the ornaments we bought for the tree.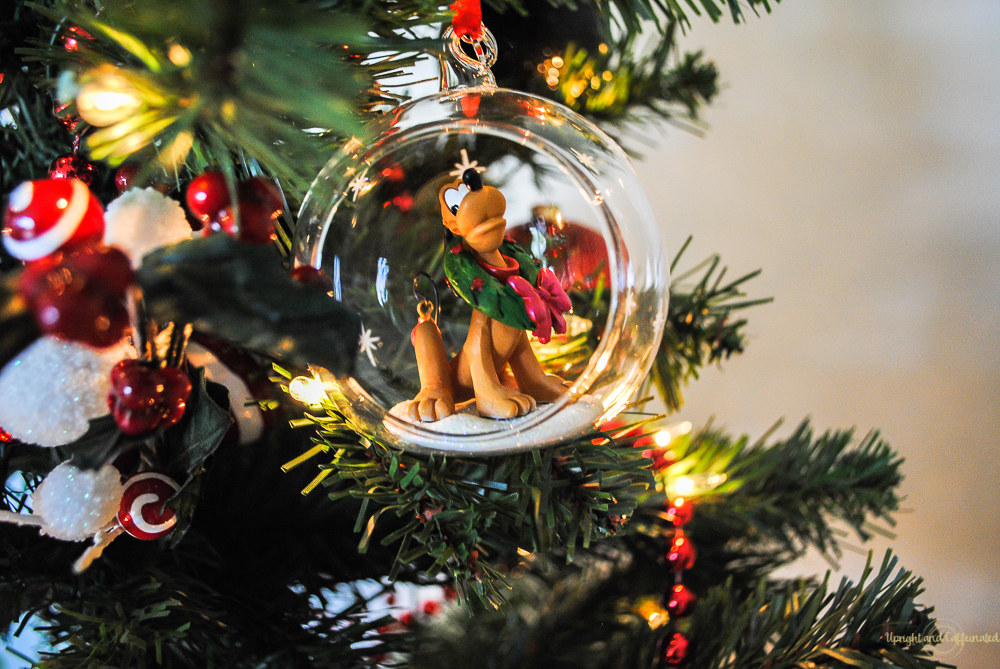 Disney Christmas Tree Decorations
Mickey Icon Disney Vacation Ornament 
Buzz and Woody with Mickey Ears 
Walt Disney World Castle Ornament 
Lightning McQueen Holiday Ornament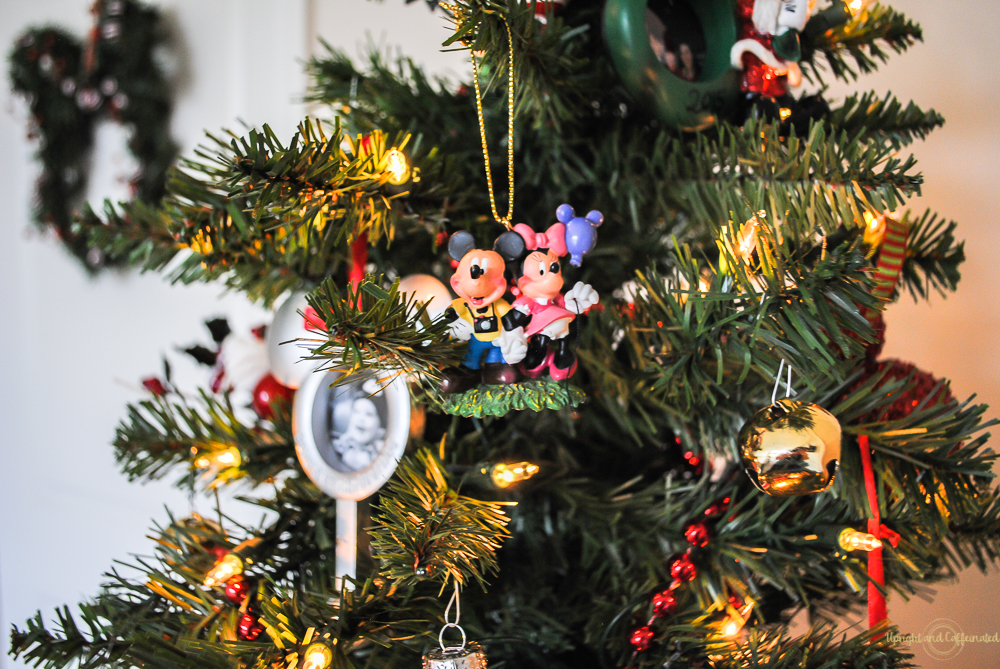 Did you see my DIY Disney Map Ornament?  I made this using free Disney World maps from the parks.  Check out the full tutorial here.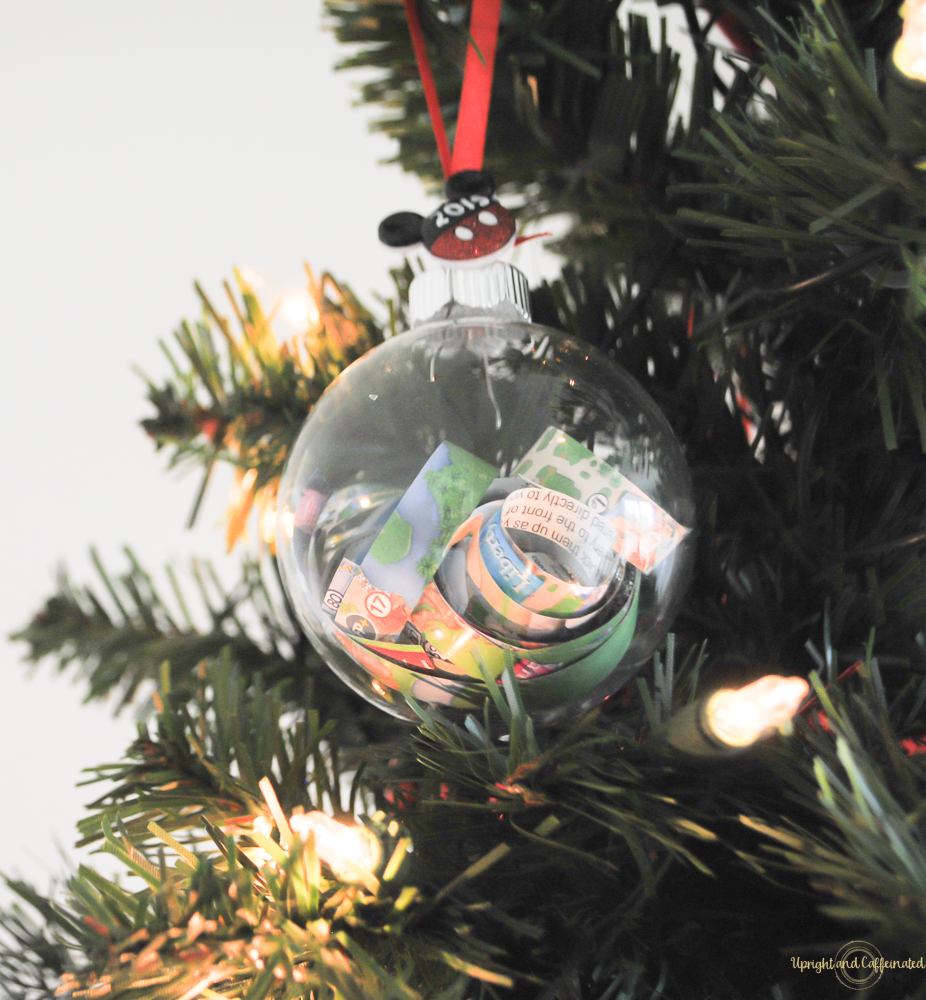 I bought the tree from Michaels.  This is the exact tree I bought.  It is actually cheaper now than what I paid for it back in early November.  This is the first pre-lit faux Christmas tree we have ever bought.  I love it! It was so easy to put together and it looks beautiful!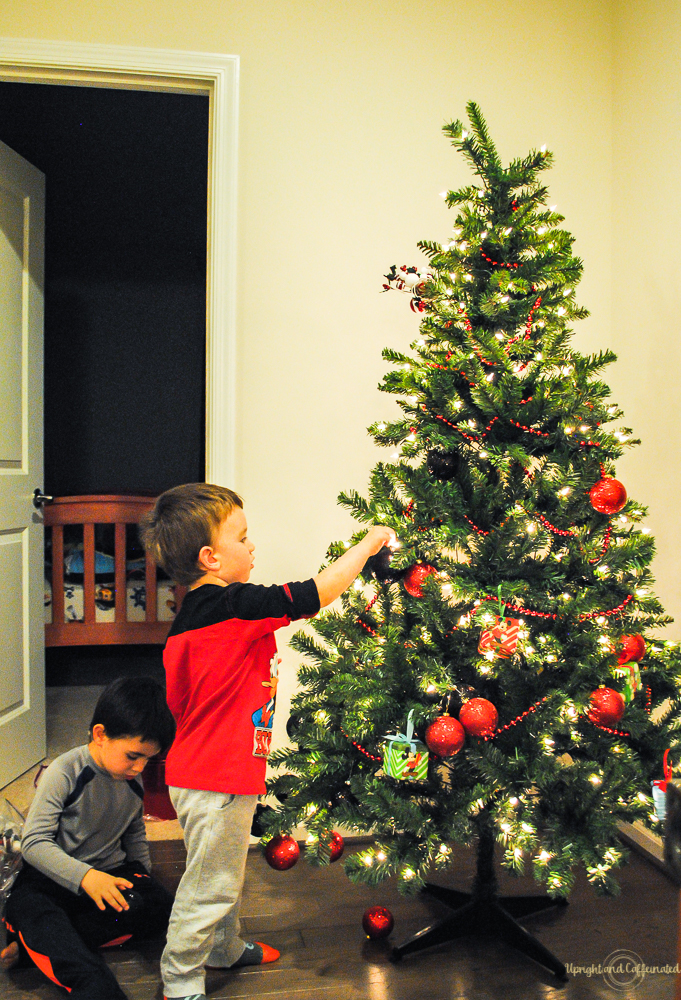 The boys helped for a bit, but got bored and left me to finish the tree.  They did have fun playing in the box though!
One of the coolest things about this Disney Christmas tree is what we have under the tree.  Many people put a train around the base of their Christmas tree, but we bought a Walt Disney World Monorail for under the tree.  I'm telling you, it is so cool!  It even makes sounds and says things like "Welcome to Walt Disney World" and "Please watch your step".  It comes with little tiny characters that can sit in the Monorail train cars, but be warned they are teeny tiny.  I took the characters out, put them in a little container with a lid and left them in the box because our youngest is not three and still tends to put things in his mouth.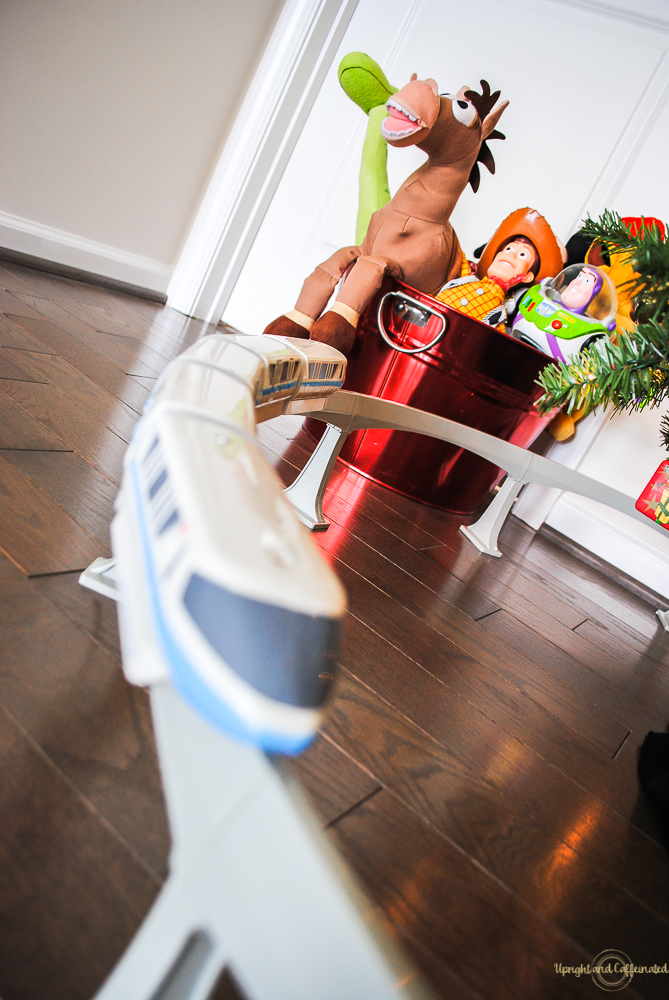 We also have the Contemporary Hotel, but decided not to put it up this year.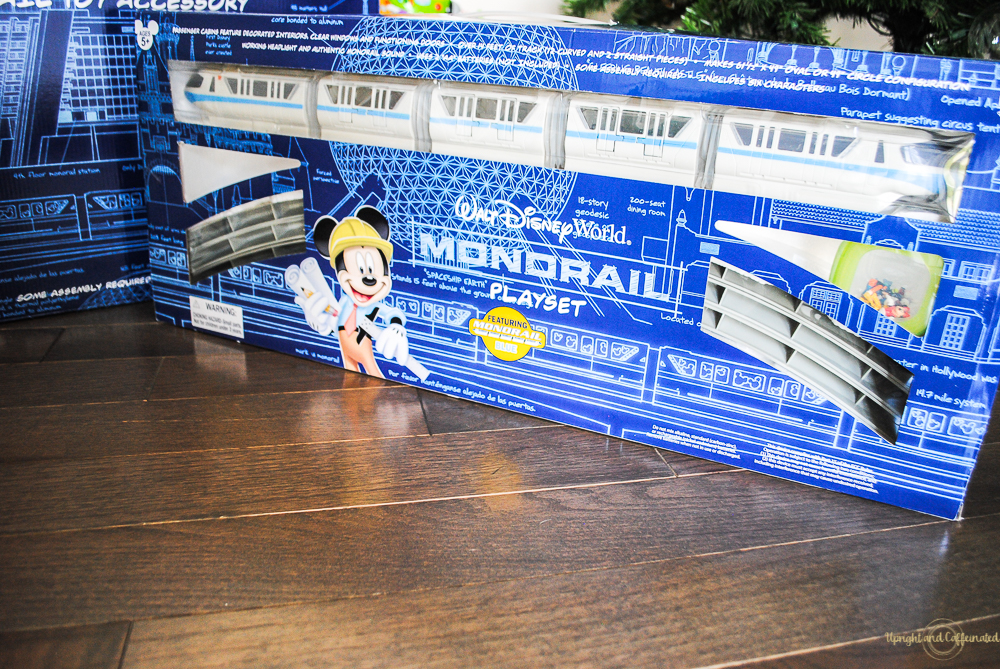 You can purchase the Monorail from the Disney Parks Store HERE.  They also sell Cinderella's Castle and Spaceship Earth!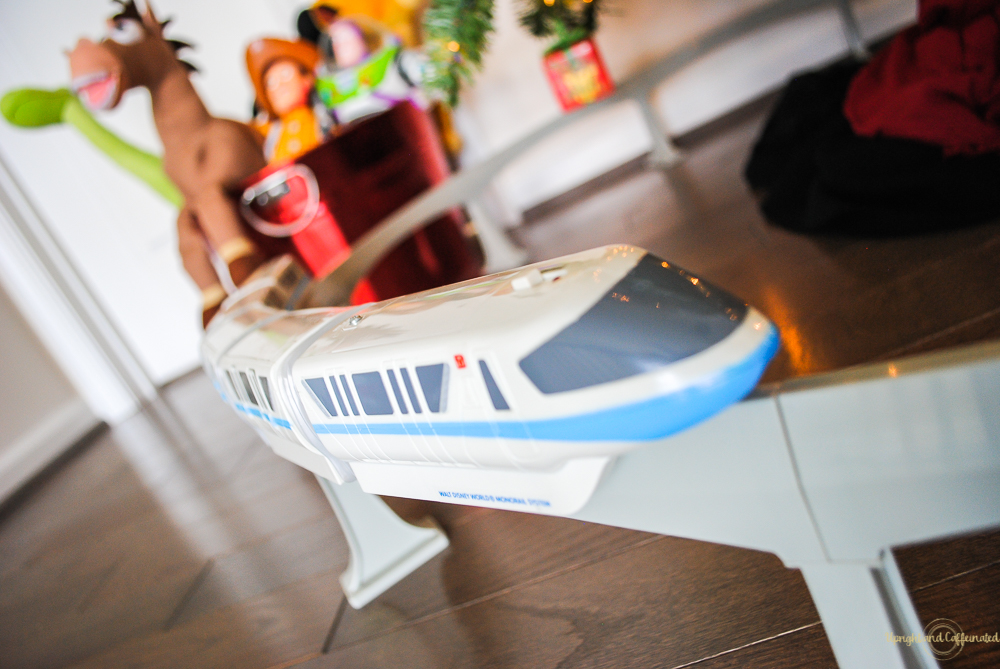 I also made two Mickey Mouse wreaths for the boys' doors.   Making the wreaths was easier than I thought.  I used a nine-foot piece of garland which I also purchased at Michael's.  This one.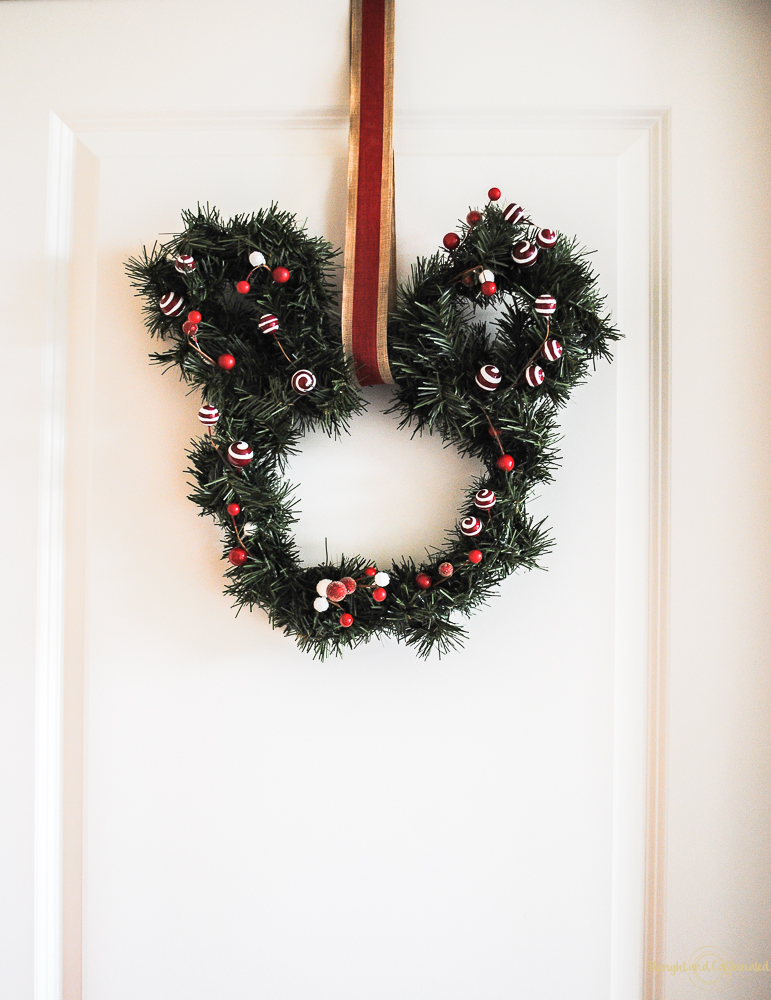 Because the garland has a thick wire that runs through it, all I had to do was twist and form it into the shape of Mickey.  I was able to use the thin stems on the garland to wrap around and hold the shape in place.  Once I had the Mickey Mouse formed, I added little red and white berries, securing them in the wreath with a dab of hot glue.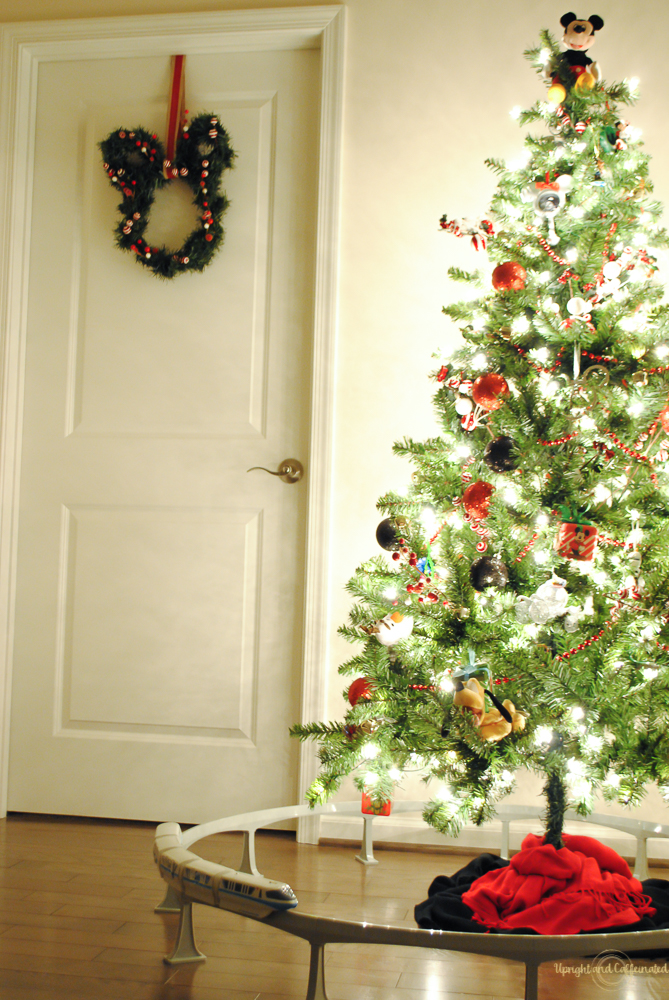 To hang the wreath, I used a command hook turned upside down on the inside of the door.  I tied a knot at the end of the ribbon and looped it around the hook.  Super simple and no nails or screws!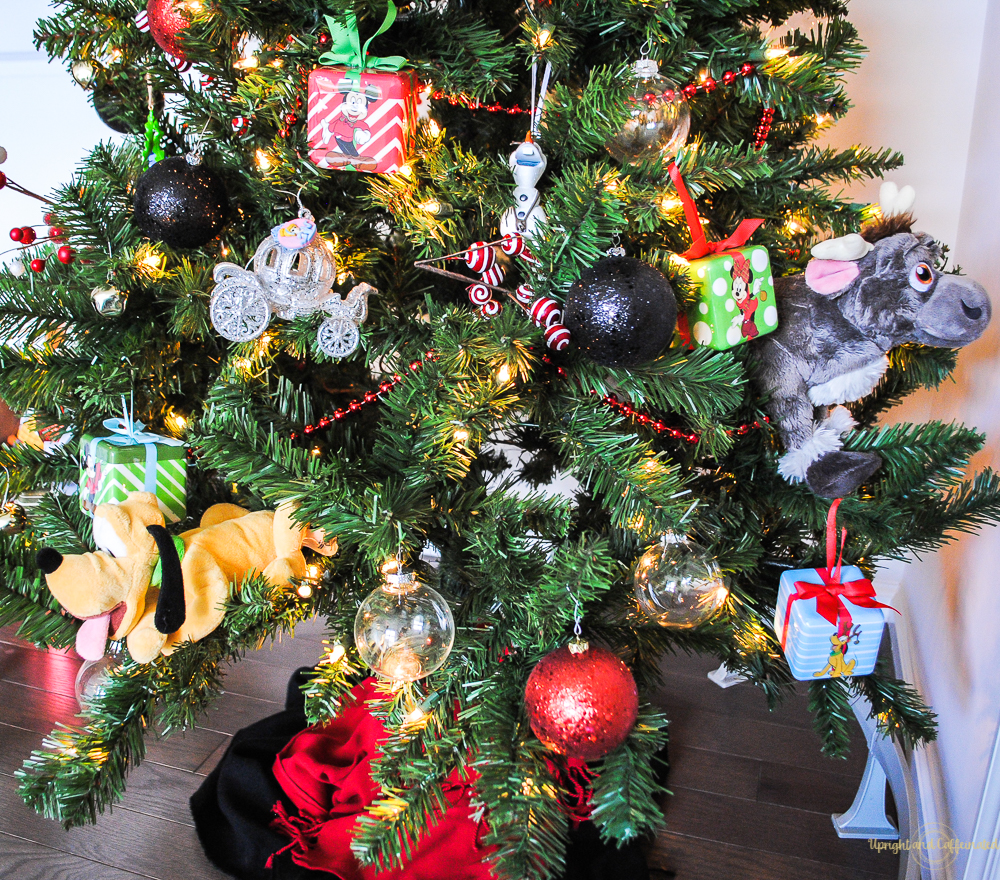 I absolutely love how this tree looks at the top of the stairs.  You can see the tree from outside through the big window in the front of our house.  The Monorail and Mickey Mouse wreaths just add to the Disney Christmas tree decorations.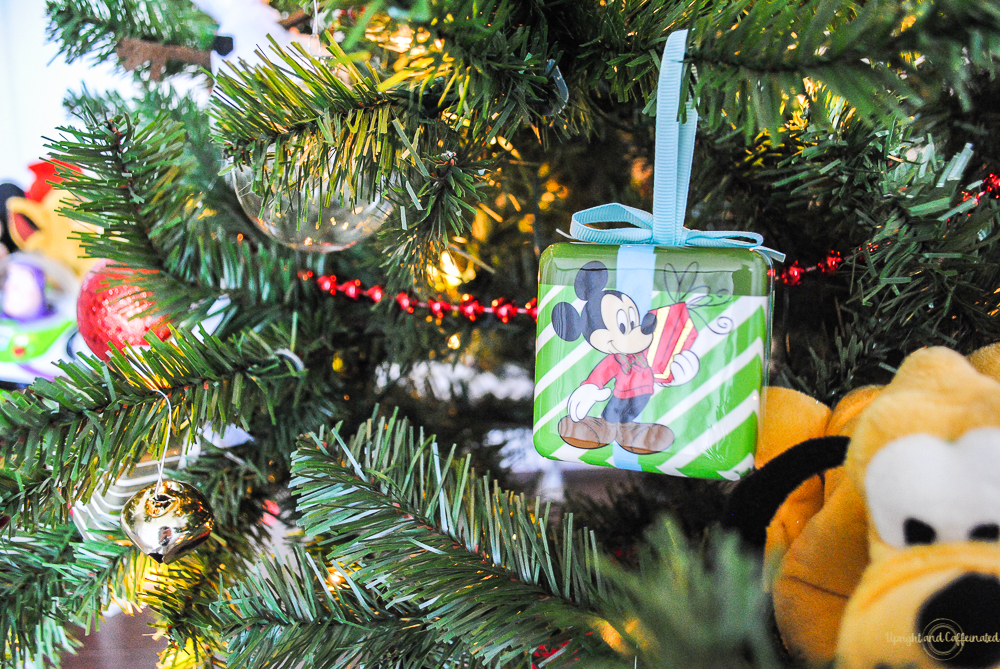 Now we have a little Disney magic in our house this Christmas.
PIN IT ⇓
Now let's check out the rest of the beautiful Christmas Trees!