Merry Christmas!  We had our first snow of the season over the weekend and I though this would be a great time to invite you to take a tour of our home all decorated for Christmas.  Since we just moved in a little over a month ago, we decided to keep our Christmas decor simple this year.  I figure we have many years to add to our decorations, but for this year it is all about simplicity.  So without further delay…welcome to our Christmas home tour!
Christmas Home Tour
Like I said, we kept things very simple- starting with the outside of the house.  We have a live Christmas tree on the front porch with just white lights on it.  I love having a "naked" tree on the porch!  I also have two wreaths on the garage windows and a wreath on the front door.  That's it!  We didn't put up lights on the outside of the house or add garland.  I tried to keep it simple and classic.  We did put our battery operated candles in each window that faces the road.  These are the exact candles we have and I love them!
PIN IT ⇓

This post includes affiliate links to products.  I may receive a commission if products are purchased through the provided links.  My full disclosure statement can be found here.
---
The wreath on the front door is real.  We purchased it at Lowes.  The ribbon can be found here. 
I used the same ribbon to make the bows on the wreaths for the garage windows.  The wreaths can be found here.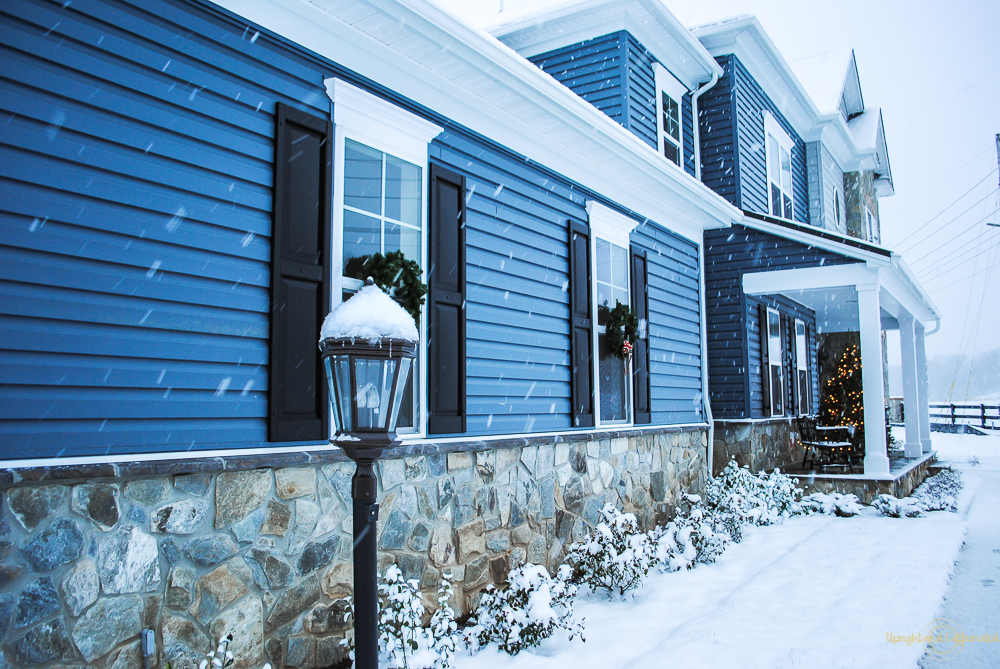 When you first enter our home, there is a small niche just at the base of the stairs.  It is the perfect space for my marble-top dresser.  I loved getting to decorate this space for Christmas. I added another live wreath with a bow, my American Santa, a moose, a crate of garland and sparkly red balls, and a DIY sign.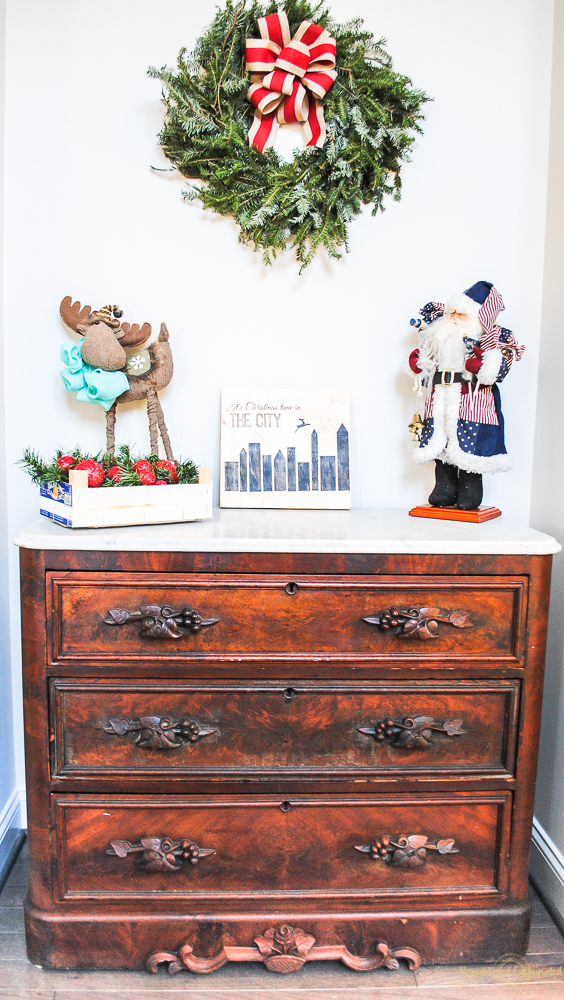 The "It's Christmas Time in the City" sign was made with my Cricut Explore Air 2.  I absolutely love it!  We lived in the city up until a month ago.  Now the sign is just ironic because we moved out to the country!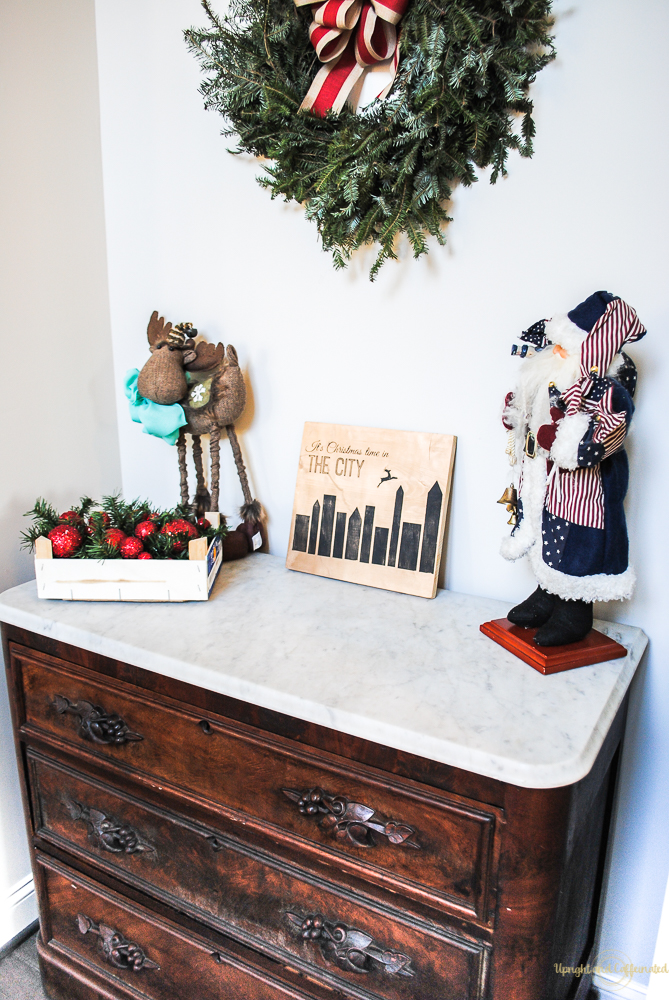 The inside of our home is not decorated too much.  I added wreaths and bows to each of the windows in the kitchen and sun room.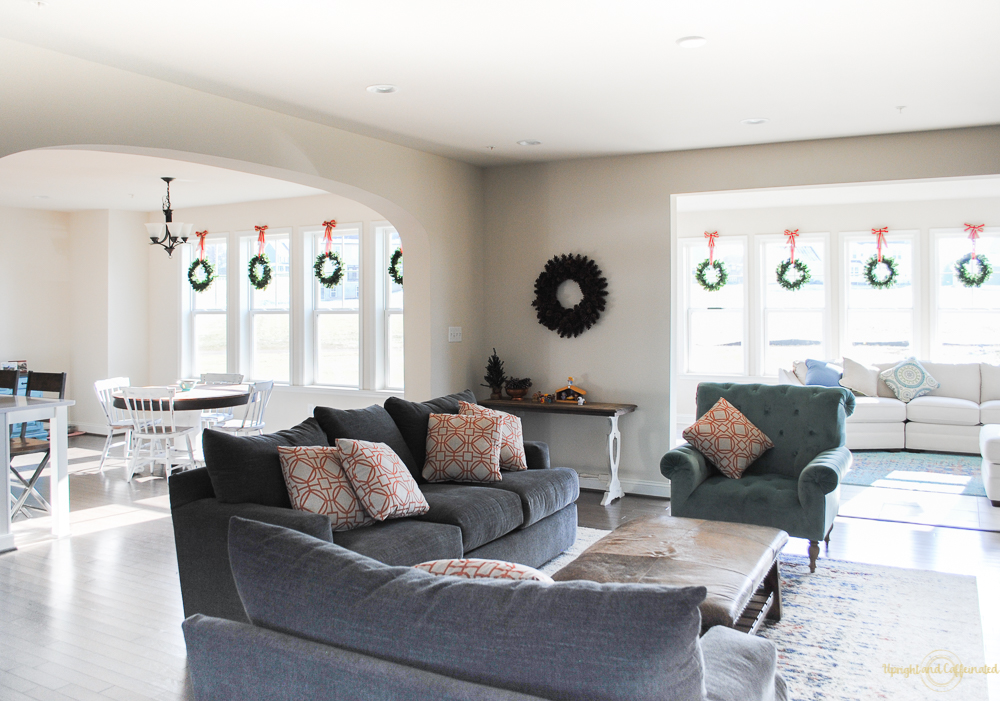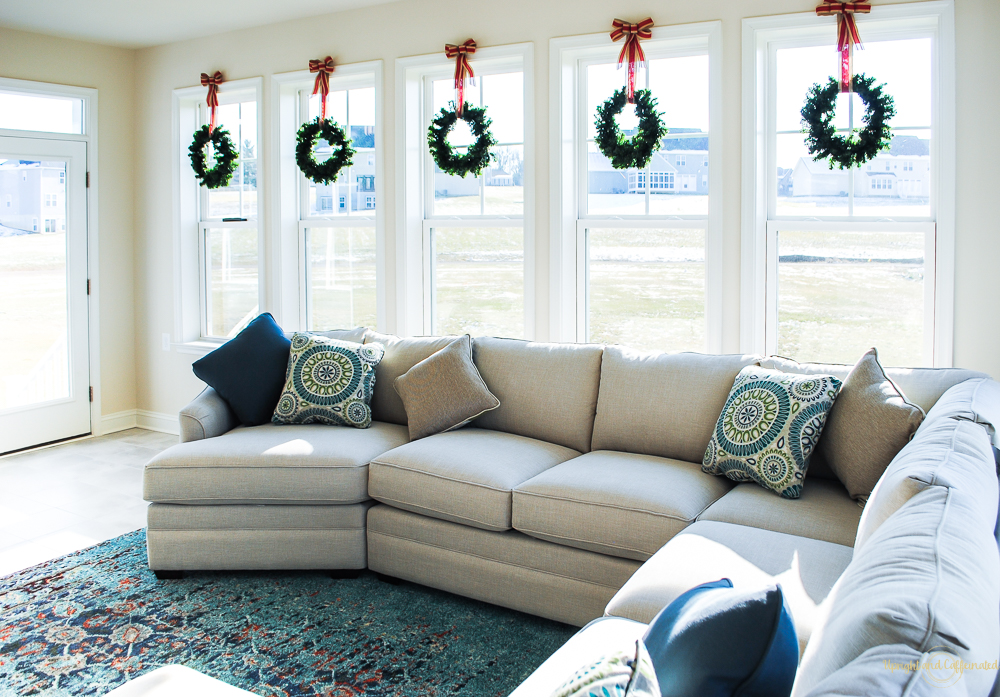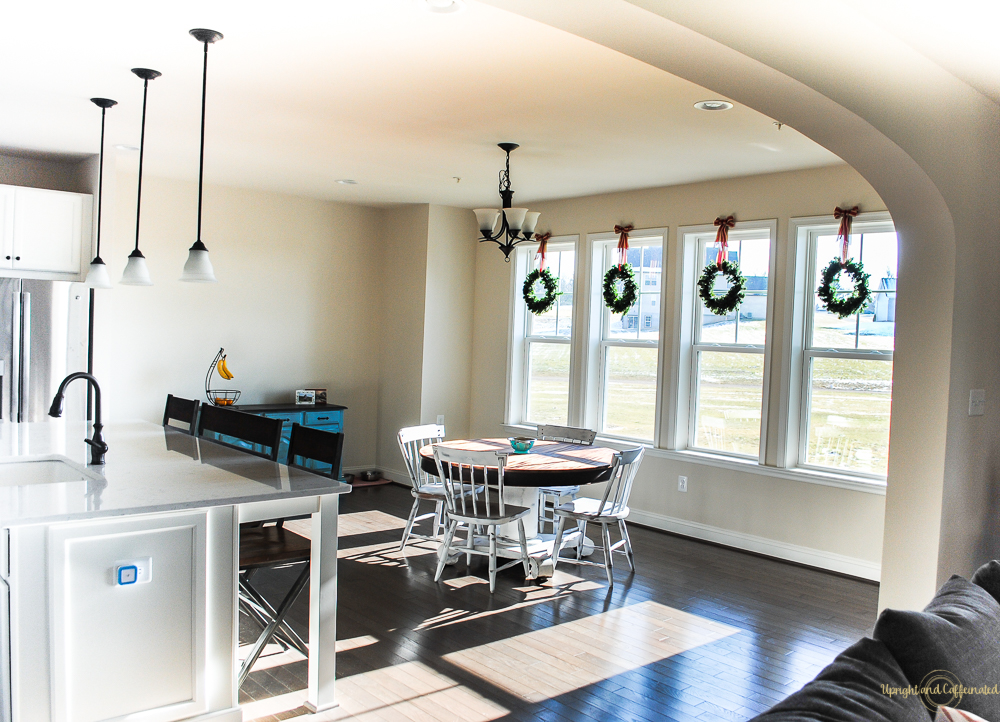 I love how our mantel turned out! This is the exact garland  I used.  The stockings are from Pottery Barn and the sparkly red balls and berries are from Michael's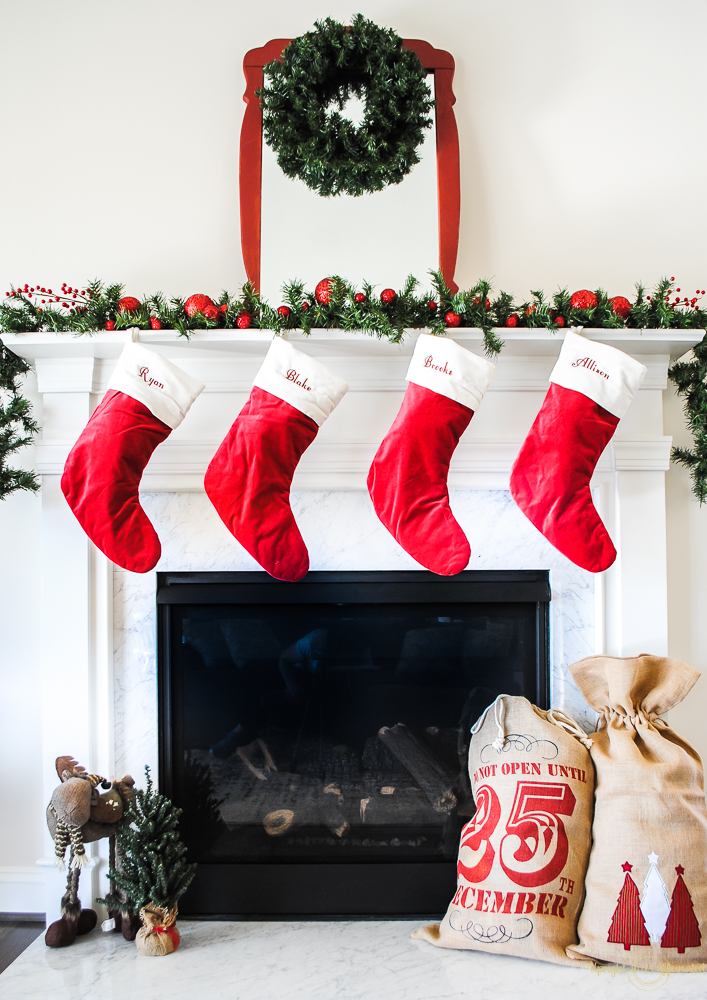 I purchased the mirror for a dollar at an auction and painted the frame red.  The burlap sacks add a bit of Christmas magic!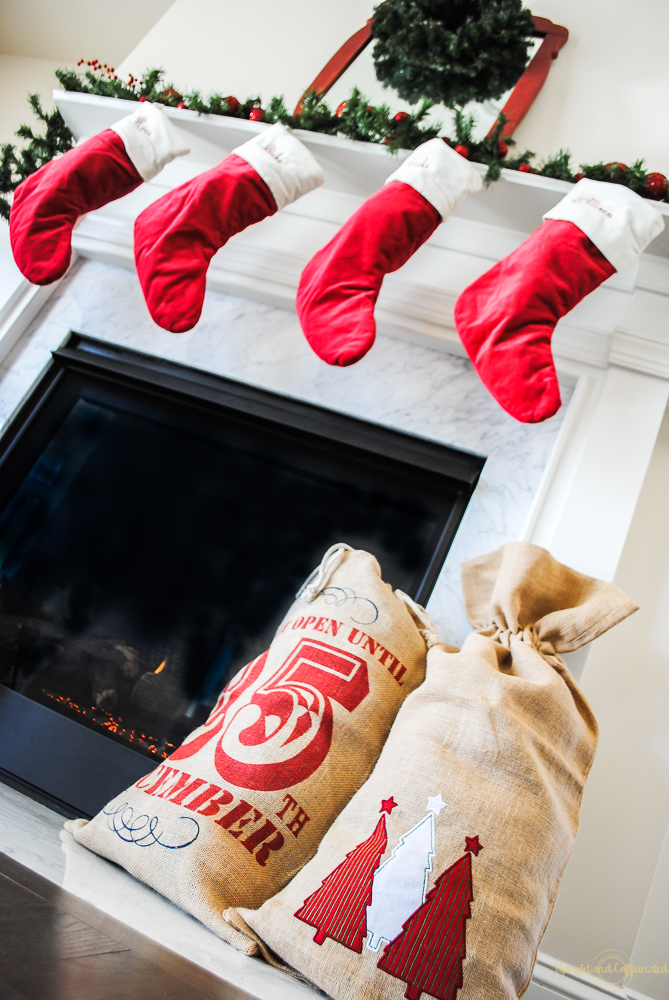 If you are still looking for Christmas stockings, I found a ton of Christmas stockings for under $20!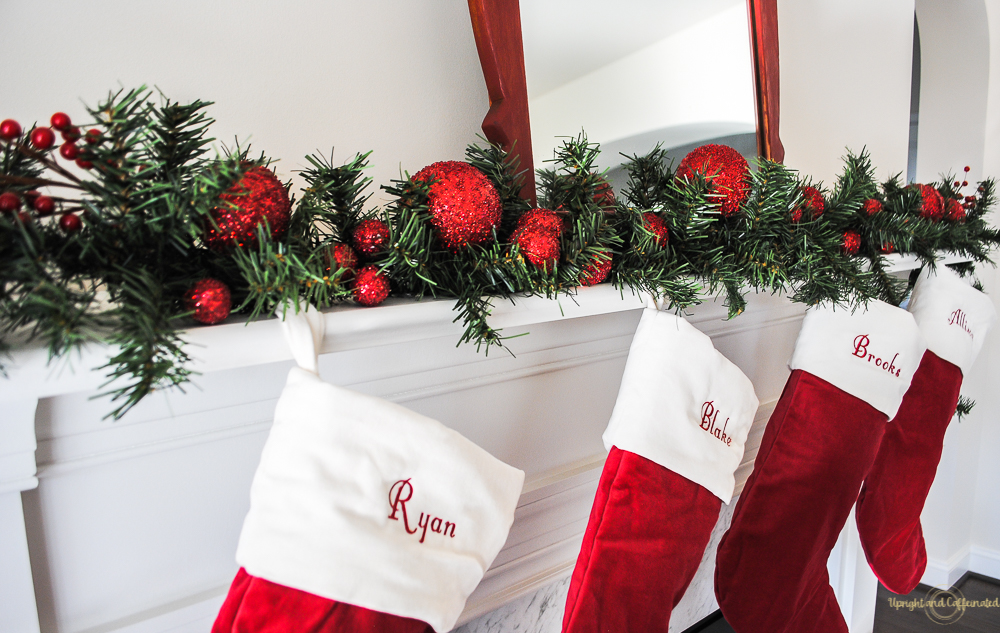 The boys have their own Disney Christmas tree upstairs.  Read more about their Disney Christmas Tree here.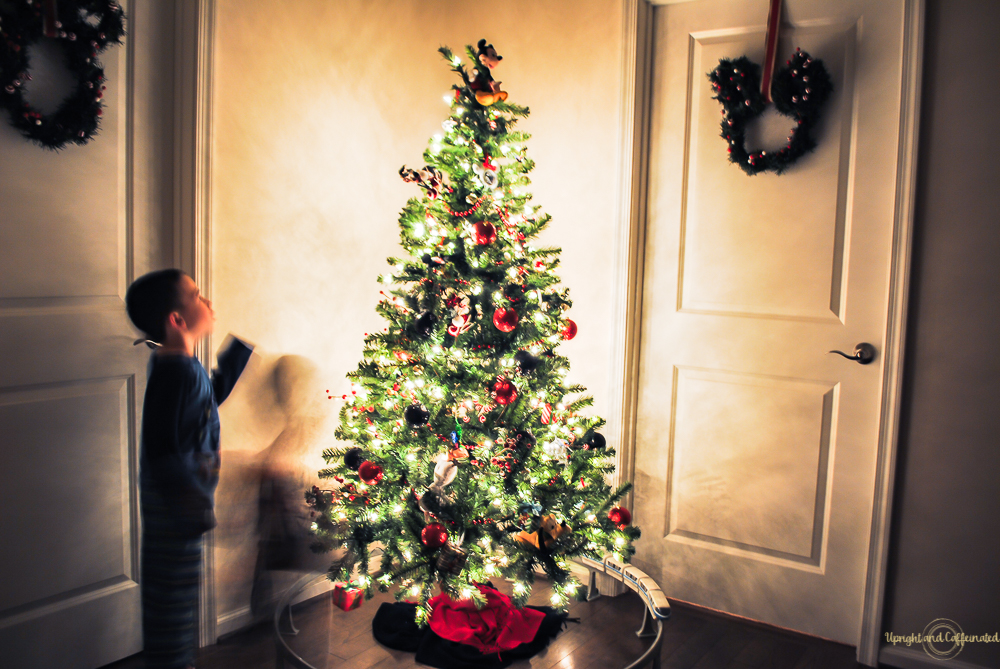 We also have a live tree with all of our sentimental family ornaments plus the DIY reindeer names ornaments I made.  I'm pretty sure this will be the last year we do a live Christmas tree inside.  We put this tree up the day after Thanksgiving and it is completely dead.  The tree on the porch (we bought them on the same day) looks fantastic.  But I think since our house is warm, the tree inside has completely dried out.
If you follow me on Instagram, you may have seen this nativity that I had out.  The boys would not leave it alone, so we had to move it!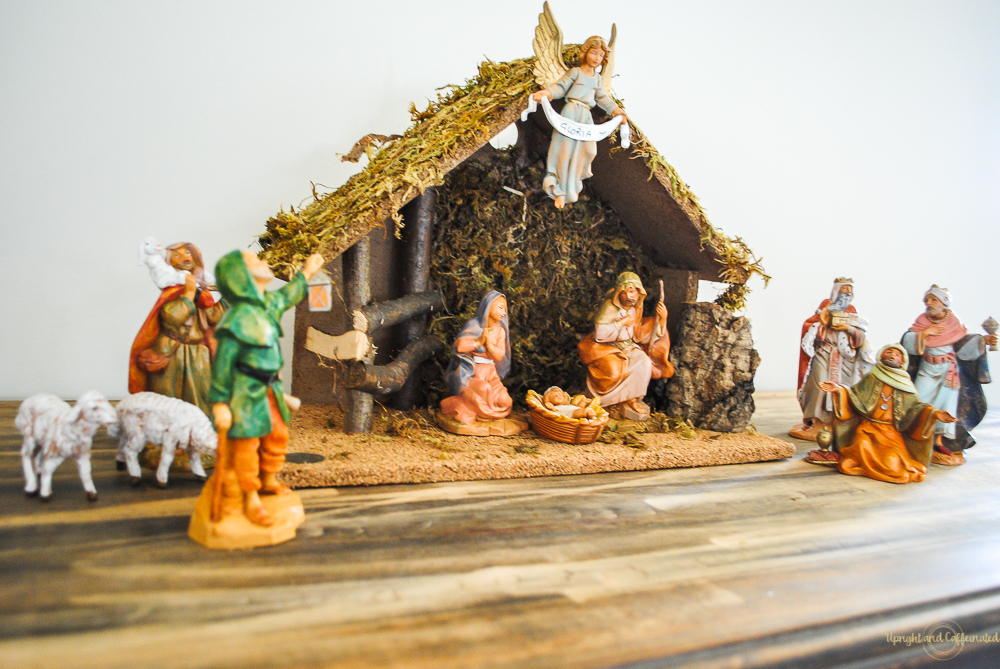 I had it sitting on my farmhouse entryway table and it looked beautiful.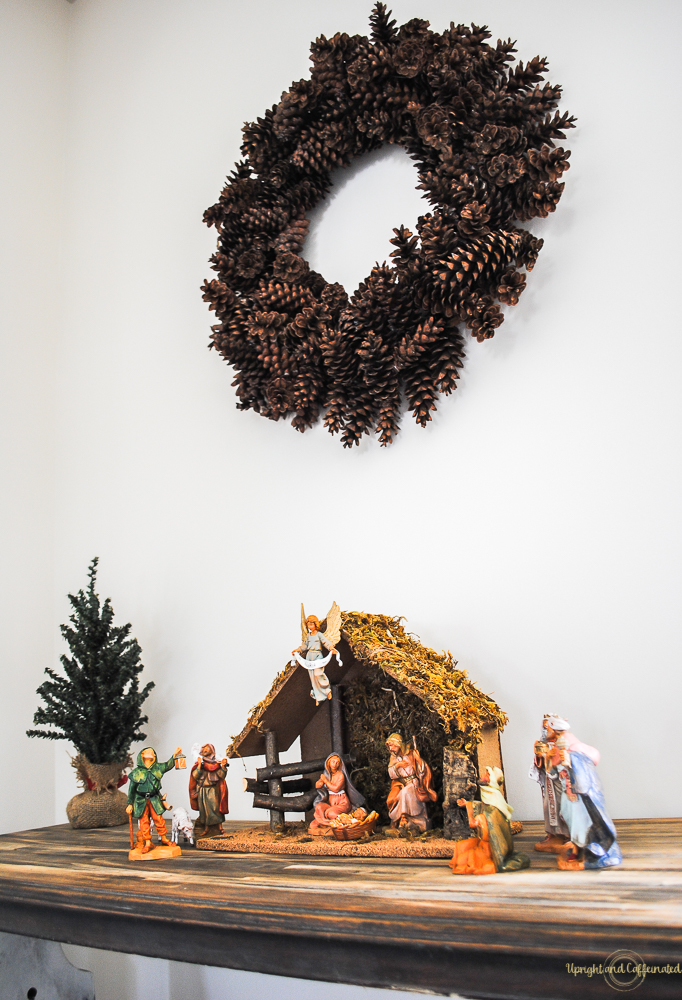 Now my nativity has been replaced with the boys' little people one.  This nativity is perfect for little kids and my boys LOVE playing with it!
So there you have it- our simple Christmas home tour!  I hope you have a magical (and slightly snowy) Christmas this year!