If you are planning on redoing your kitchen, buying a home or just want to refresh the way your current kitchen looks, I have the 2017 hottest kitchen trends to share with you.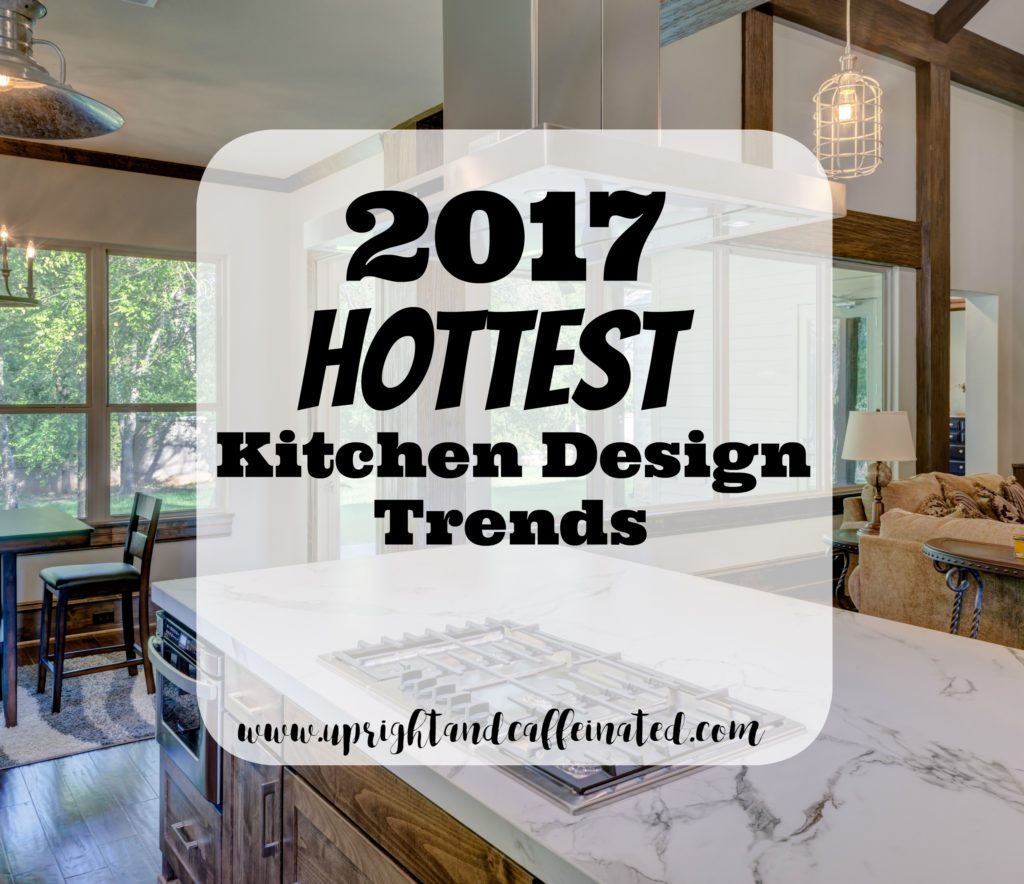 I'm currently obsessed with kitchens.  We are in the process of building a house and I have done a ton of research on everything from counter tops, flooring, back splash, appliances and lighting (just to name a few).  If you are looking for ideas to incorporate in your kitchen that are inline with current trends, you are in the right place!
 2017 Hottest Kitchen Trends
This post includes affiliate links to products.  I may receive a commission if products are purchased through the provided links.  My full disclosure statement can be found here.
---
 Quartz Counter Tops
Quartz counter tops are hitting a huge surge in popularity over granite.  There are a few reasons to explain the quartz trend.  First, quartz is harder than granite and does not need to be sealed like granite. Another reason is the marble look.  Quartz is priced considerably less than marble, it is significant;y stronger than marble, but looks the same.  Monochromatic kitchens are hugely popular right now and with white cabinets, designers are choosing white quartz counter tops.  These are some of my favorite quartz counter tops from Houzz.
Painted Cabinets
Painted cabinets have been on the rise the past few years and continue to be extremely popular, especially with the DIY crowd!  Two-tone painted cabinets (painting upper cabinets one shade and lower cabinets another shade) is becoming increasingly more popular.  Another popular painted cabinet trend is painting the kitchen island a contrasting color from the rest of the kitchen.
---
Mixed Metal Finishes
Think the finish on the pulls on your cabinets need to match the finish on the faucet or appliances? Nope!  Mixed metal finishes is another 2017 hottest kitchen trend.  Through my research, I have found an increasingly amount of mixed metal finishes resulting in stunning kitchens!  Mixing oil rubbed bronze pulls with stainless steel appliances or copper pendant lights with black cabinet pulls.  Pretty much anything goes.  No need to be matchy-matchy!
Unique Pantry Storage
Everyone needs some kind of food storage in their kitchen and unique pantry storage is another trend for kitchens in 2017.  Whether you have a small cabinet or a walk-in pantry, being organized and maximizing the space is definitely on-trend.
Copper Accents
Copper is HUGE right now.  Insanely popular in all home decor, but especially in the kitchen. Incorporate copper by adding a copper sink, vent hood or pendant lights.  Don't want to commit to this trend with something structural?  How about adding copper accents like a copper kitchen aid, copper tea pot or copper mugs?
Farmhouse Sink
A large farmhouse sink has also been on the rise over the past couple of years, but it is definitely a trend that is here to stay.  The look is classically farmhouse and the size and shape are extremely functional.  I simply love the depth of the farmhouse sinks.  We recently visited our builder's model home and I could have literally given my two-year old a bath in the 36 inch farmhouse sink in their kitchen!
Open Shelving
Open shelving is also a hot kitchen trend this year.  This is not a look I think I could pull off well.  To make this look work, you need to be organized, decluttered and have pretty dishes.  If you have coordinating dishes and a clean kitchen, you can definitely rick this trend!
I'm excited to see what other hot kitchen trends emerge this year, but for now, these are the hottest I have seen!  I can't wait to include some of these  (or all of them) in our new home.  What kitchen trends are you going to put in your house?