If you stop by here often, you may know we are in the process of building a new home.  I've written a few posts about our process, including basics of building a new home and how to save money for a house.  Today I want to share with you the cost of building a house.  Keep in mind, there are different kinds of new homes (I break down the difference in basics of building a new home), so every home will be different.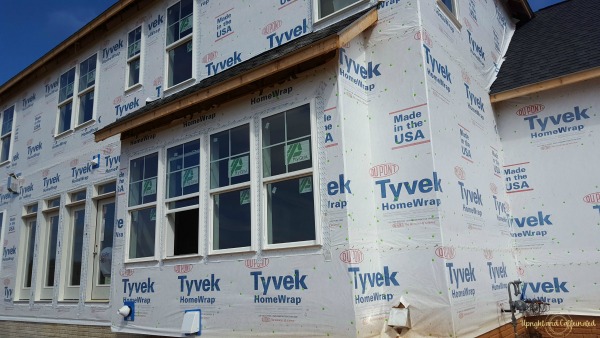 Cost of Building a House
There are a few aspects that go into the cost of a home.  For this post- I will specifically be referring to a semi-custom home.  Check out basics of building a new home to learn about the different types of homes you can build.
Location Location Location
Location is one of the biggest cost-factors.  Our home builder builds homes in the Washington, DC area.  The closer to DC the more expensive the homes and the further out from DC, the homes are priced lower.   Prices for materials don't fluctuate, but the price of the actual property can vary drastically.
Which brings me to the next cost factor…
Is the land included?

When building a semi-custom home, you need to find out if the land is included.  If you are buying in a neighborhood, it is likely that the actual land is calculated in the cost of the house.  However, if you are buying land (over an acre usually), the land may not be included in the price of the house.  This is definitely something you want to clarify with the builder.  You may be able to afford to build the house, but if the land costs an additional $200,000, that might be a deal breaker.
Standard or Upgrade

Every builder is different.  I cannot stress that enough.  What some builders consider standard, another builder considers an upgrade.  Find out what comes standard.  I have heard stories of people building a new home, and when they move in, find out that the electrical outlet covers were not included.  Or fixtures for cabinets and drawers might not be included.  These will all need to be calculated in the cost of building a house.  If they are included, remember, you are paying for them over the life of the mortgage, but if they are not included, that is cash up front you need to have handy.  Also, the quality of the home builder will factor into the home price.  Know the builder's quality of work and look at homes they have built in the area.  Are they known for using the cheapest materials for their homes and needing repairs within a few years?
Appliances

Make sure to ask what appliances are included in your new home.  This will definitely make a difference in the cost of building a house.  Some builders include appliances like refrigerator, dishwasher, range/stove and washer/dryer.  Others do not include these and you will need to pay extra for them.  You also want to find out what brand and model comes standard if the builder includes these appliances.  For instance, our builder includes MOST appliances, but not all.  (We will have to purchase a washer and dryer on our own.)  In regards to upgrading appliances, we did upgrade the refrigerator because we wanted a larger refrigerator and the builder needs to build the space for the refrigerator based on the dimensions of the appliance.
What are your priorities?

When building a semi-custom home, you are usually given a base price for a home and then given a myriad of options and upgrades.  Basically, you determine the price going above the standard price of the home.  Do you want upgraded hardwood floors?  That will cost you.  Do you want custom paint colors on the walls, that will also cost you.  Know what you want to spend money on when building a new home (like the kitchen and bathrooms) and leave the things lower on your priority list for later.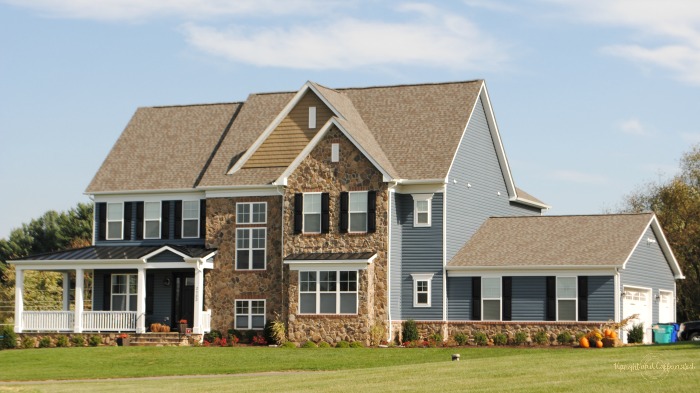 Like I said, every builder is different and every location is different.  Take into consideration the price per square foot, location, what is included or standard and the quality of each builder when calculating the cost of building a house.  Sure, there were less expensive homes in the area where we were looking, but we wanted a well-built home and a builder that had a good reputation so that we weren't running into problems a few years down the line.
This post includes affiliate links to products.  I may receive a commission if products are purchased through the provided links.  My full disclosure statement can be found here.
PIN IT ⇓