Are you out of hibernation yet?  The weather is starting to warm up and we are getting out of the house a bit more these days.  I took the boys to the grocery store Saturday morning which was like an Olympic event!  One saw something with Paw Patrol and took off in one direction and the other saw Batman band-aids and was instantly drawn to them.  After all of the distractions, we got what we needed and headed home to make dinner.  I made a delicious roast which I used my meat claws to shred.  It got me thinking of some of my favorite unique cooking supplies that I have in my own kitchen and some that I would love to have.
---
This post includes affiliate links to products.  I may receive a commission if products are purchased through the provided links.  My full disclosure statement can be found here.
---
PIN IT⇓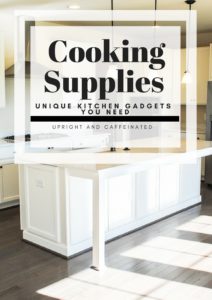 Unique Cooking Supplies
Meat Claws– These things are fantastic!  My husband uses them all the time during the summer when he makes pulled pork.  These will work on chicken, pork, beef…they are great for everything.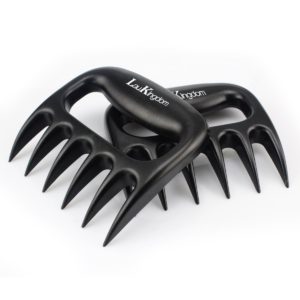 Zip-Lock Bag Holder– This is one of those cooking supplies that I NEED!  We make large batches of spaghetti sauce and on more than one occasion, we have made a horrible mess getting the sauce into a gallon size baggie.  This would also be perfect for loading frosting into a disposable piping bag!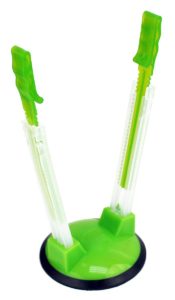 Sous Vide– Pronounced "Sue Vee", this little gadget is fantastic!  My mom has one and uses it all the time.  You can cook meat in advance, use the sous vide to keep it warm, but not overcooked and still have time to make all the rest of your sides.  This is a great gadget to have if you host dinners like Thanksgiving or Christmas!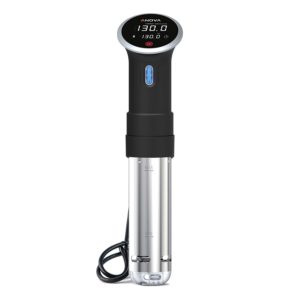 Instant Pot– If you have not heard about the Instant Pot, you are missing out.  This little cooker is super popular right now!  It is basically a pressure cooker that you can make anything in.  Instant Pot is the new Crock Pot!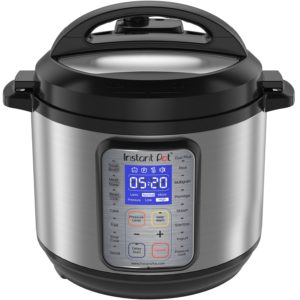 Silicone Oven Mitts and Pinch Grips– My silicone oven mitts are my favorite to protect my hands from burns.  Those traditional padded oven mitts seem to loose their padding and heat transfers through them more easily than the silicone mitts.  The pinch grips are also amazing for grabbing small handles on things like pots or dutch ovens.  I made stew in my Staub today and used the pinch grips to take it out of the oven!
Multi-Spoon Rest – This spoon rest is brilliant.  If you are cooking spaghetti, you have your pasta in one pot and sauce in another, but do you have two spoon rests?  I don't!  This multi-spoon rest solves the problem of not having enough space to rest your spoons, spatulas or whisks!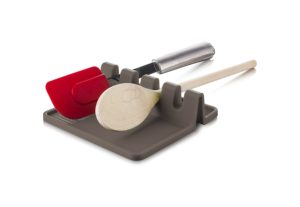 Avocado Slicer– This handy tool will cut, de-pit and perfectly slice your avocado.  This is so nifty to have  if you are an avocado fan or like to make guacamole!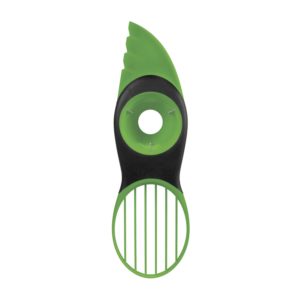 Pizza Cutter– I love this pizza cutter.  It is also GREAT for cutting pancakes too!  If you have young kids who love pancakes, you know that cutting pancakes with a butter knife is a messy task.  Use a pizza cutter instead to have perfect pancake pieces!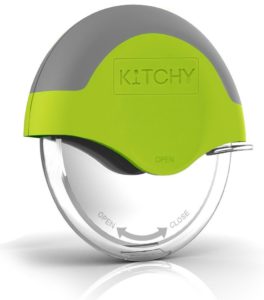 Herb Scissors– These are perfect for chopping herbs for recipes or garnishes.  I also love using these for perfectly sliced green onions!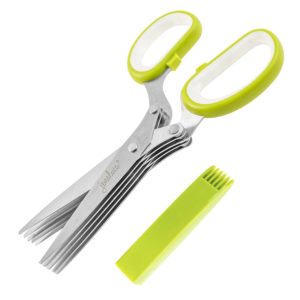 So there you have it!  All the cooking supplies I either can't live without or that I desperately want! Is there something in your kitchen that you think is the best creation ever invented?  I'd love to hear from you.  Drop a comment!
Want to see what is in my husband's grill tool box?  Click the image below!