Roasted Pork Tenderloin is one of my favorite things to make for dinner.  My husband loves pork in any form and my kids love this roasted pork tenderloin recipe.  I make this about 2 or 3 times a month because it is simple and such a huge hit in our house.  This is a great roasted pork tenderloin recipe that is simple enough for a busy weekday dinner.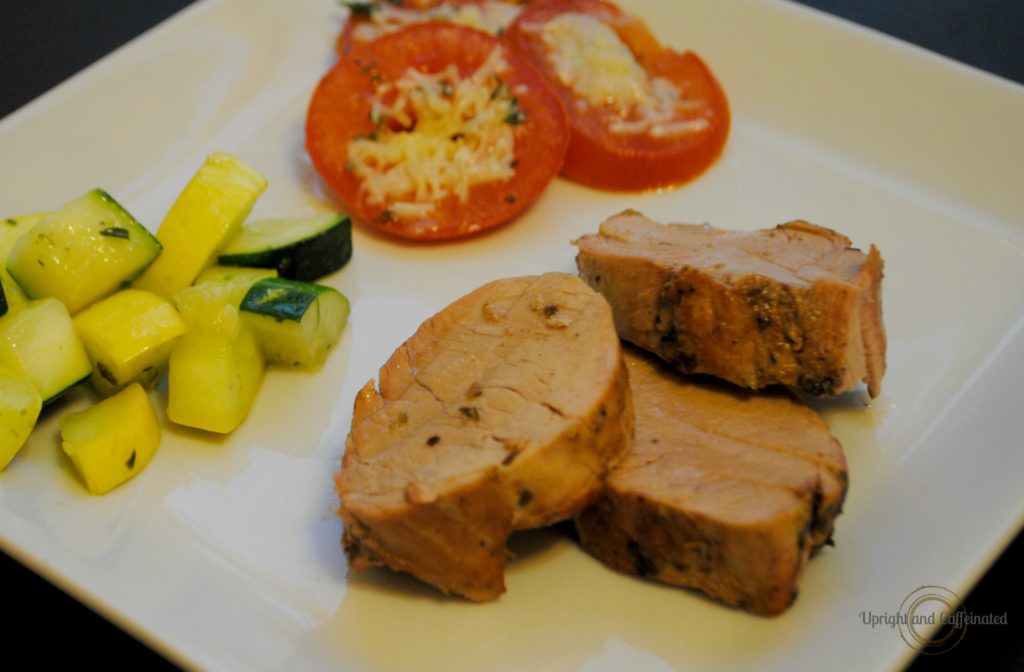 This post includes affiliate links to products.  I may receive a commission if products are purchased through the provided links.  My full disclosure statement can be found here.
What you need:
Pork tenderloin (they typically come two per package and I always cook them both for feeding a family of four)
3 tablespoons of olive oil (or Wegman's Basting Oil)
Seasonings (Penzy's Florida Seasoning is our favorite!!)
½ cup of white wine
1 ½ cups of chicken broth
2 tablespoons of butter
100% Stainless steel pan (nothing with a plastic or wooden handle)

How to Make Roasted Pork Tenderloin:
Preheat the oven to 400 degrees.
Pour the olive oil in the pan and heat to medium- medium high.
Season the tenderloins with seasoning of choice and add them to the hot pan.
Brown the tenderloins on each side.  (About a minute on each side).
Put the pan in the oven and roast the tenderloins for about 25 minutes or until the internal temperature is 145 degrees and juices run clear.  *Use caution when taking the pan out of the oven- the handle will be hot!
Immediately wrap the tenderloins in aluminum foil and let them rest.
Place the pan back on the stove over medium high heat and add butter.
Once the butter is melted, add white wine and broth.
Deglaze the pan and scrape up the brown bits.
Turn the heat down to med-low and let the sauce simmer for about 5-10 minutes.
Slice the pork at an angle into ½ inch pieces and add them to the sauce.  Allow for the pork to soak up some of the sauce and pour extra sauce over top of the pork when serving.

A couple of notes:
If you are out of white wine, skip it…this sauce is great even without the wine.  Also, if you are serving this to kids, include a side of applesauce.  This pork with a side of applesauce is perfection!
I usually serve this with summer ratatouille or Parmesan roasted tomatoes.
This is my go-to weeknight dish for a healthy and easy dinner.  My entire family loves this and if we have leftovers, the pork is still so moist from the sauce.  Use whatever seasoning you like to customize this pork to your liking.