Hello friends.  Are you ready for spring?  I am sooooooo ready.  It is freezing here, there's ice on the sidewalks, and we are still running the heater non-stop.  Spring can not come soon enough!  While it is still cold here, I have had time to think about decorating our bedroom.  One of the things we desperately need are small table lamps for our nightstands.  I have done a ton of looking online and pulled together my favorite nightstand lamps under fifty dollars.
Changing out accent lamps is one of the easiest ways you can change the look of a room with just a small investment.  A lamp can go with the current decor of the room, or it can be a contrast and a focal point of a room.  I also love finding unique lamps for buffets or sofa tables.
 Nightstand Lamps Under $50
---
This post includes affiliate links to products.  I may receive a commission if products are purchased through the provided links.  My full disclosure statement can be found here.
---
Click on the picture to take you directly to the lamp online!
These modern nightstand lamps are beautiful and would go with a variety of decor styles.  They are unique and would accent a room beautifully.  I would choose any of these for our bedroom or our guest room!
These nightstand lamps incorporate warm wood tones and create a softer look.
Looking for a simpler style?  These next four nightstand lamps under $50 would go with any decor style in any room.
Have kids?  These nightstand lamps are kid-friendly and absolutely adorable!  They would brighten up any room (literally)!
Go coastal with these lovely, beachy nightstand lamps.
PIN IT ⇓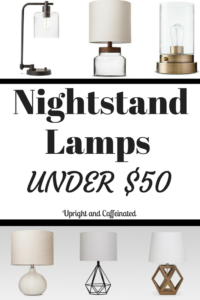 Looking for a Custom Lamp?
Finally, I want to tell you about something I just discovered about two weeks ago.  Target lets you make your own lamp.  Yup- you pick the base and pick the shade and you have your very own custom nightstand lamp (or accent lamp, or buffet lamp…options are endless).  Here's how it works.  Pick one of the bases below (this is just a sample, there are plenty more on their website).
Next, pick a shade.
* Prices and color selections are subject to change at the discretion of the retailer. 
You can completely make your own look by mixing and matching the lamp bases and lamp shades.  The other good thing, is even when customizing your own nightstand lamp, it is still very affordable and usually less than $50!  You can't beat that!
I found so many lamps that I would absolutely love to have on my nightstand.  Now onto the hard part- picking one!  Which one is your favorite?