Well, It's official.  We just took the first step to buying a new home.  Correction- BUILDING a new home.  The thought of building a new home was not even on my radar, but the location is fantastic and everything I have heard about the builder has been stellar, so we decided to go for it.  I have put together a collection of modern farmhouse elements that I plan to include in our new home.
Over the past few days, we've been going over floor plans trying to figure out which layout fits our family's needs the best.  Building a new home means I don't get to fix-up anything.   I don't get to demo a kitchen or take down a wall.  But I do get to choose just about everything that goes into this house.
This is my inspiration for this new home.  I want it to have a farmhouse feel (since we will be in the "country").  However, I also want this home to have all of the modern conveniences that you would typically find in a new home.  Let's call this my Dream Modern Farmhouse!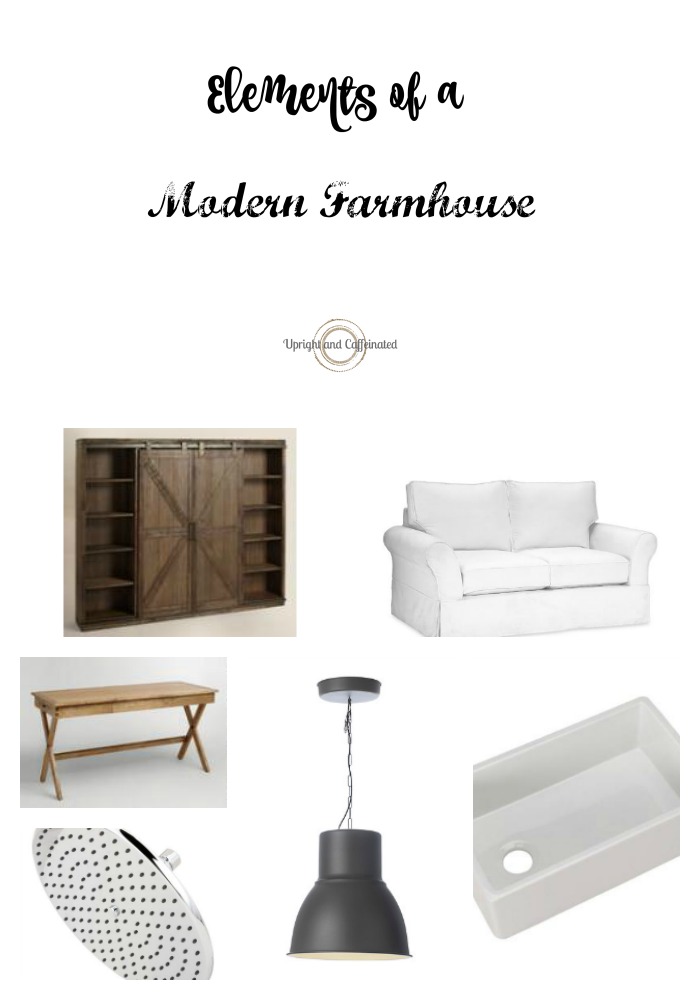 This post includes affiliate links to products.  I may receive a commission if products are purchased through the provided links.  My full disclosure statement can be found here.
Modern Farmhouse Elements 
Let's start with the kitchen.  What modern farmhouse is complete without a farmhouse sink?  I found this white farmhouse sink online through Home Depot.  I'm still debating between a double farmhouse sink or a single farmhouse sink, but either way, the farmhouse sink is a must!
Lighting in a new home is important and with building, there is more flexibility to have outlets and lighting placed exactly where you want them.  This overhead light from IKEA would be perfect over a modern farmhouse kitchen island.
Furniture is a great way to show off a modern farmhouse style.  I love the simplicity of this white slipcover couch from Pottery Barn.  Dress it up with seasonal throw pillows or blankets, and it is a versatile piece that will withstand trends.  I also love the idea of having an entryway table to showcase all of my farmhouse decor.  This entryway table is beautiful!
Barn doors are also a must-have in a farmhouse style home.  If a barn door is not an option, here is a lovely bookshelf that can be used in an office, living room, bedroom or even a dinning room.  What a great way to add a barn door and also include a functional piece of furniture.
Here's where the modern comes in; waterfall shower head.  We have experienced this kind of fancy waterfall shower head while on vacation and it was fabulous.  Have you ever been to a swanky hotel and thought, wow- I'd really like to have this in our house?  That's what we said the last time we stayed at a hotel with one of these in our shower.  I was surprised to find out that this kind of shower head attaches to your existing pipe.  No need to get a plumber out to re-route your water pipes to your ceiling.
I'm hopeful that we can include these modern farmhouse elements in our new home.  I'd love to hear from you.  Do you have any favorite modern farmhouse elements that you would include?
Source List