Hello friends!  Happy to have you here today.  I have been looking forward to sharing this milk can makeover with you for a looooong time.  See, I purchased a vintage milk can at an auction a while back and have wanted to do something with this little treasure. My husband suggested putting it outside, but it looked way too boring.  Then summer hit and so did the inspiration for this milk can- a welcoming pineapple!  Stick around and I'll show you how I took a rusted vintage milk can and turned it into a pineapple milk can planter.
I've joined up with some other great bloggers this week to share some pineapple inspiration.  This blog hop kicks of Pineapple Week over at The Weathered Fox.  Pop on over through the week to check out pineapple themed home decor, recipes, drinks, DIY tutorials, shopping guides, and free printables all week long.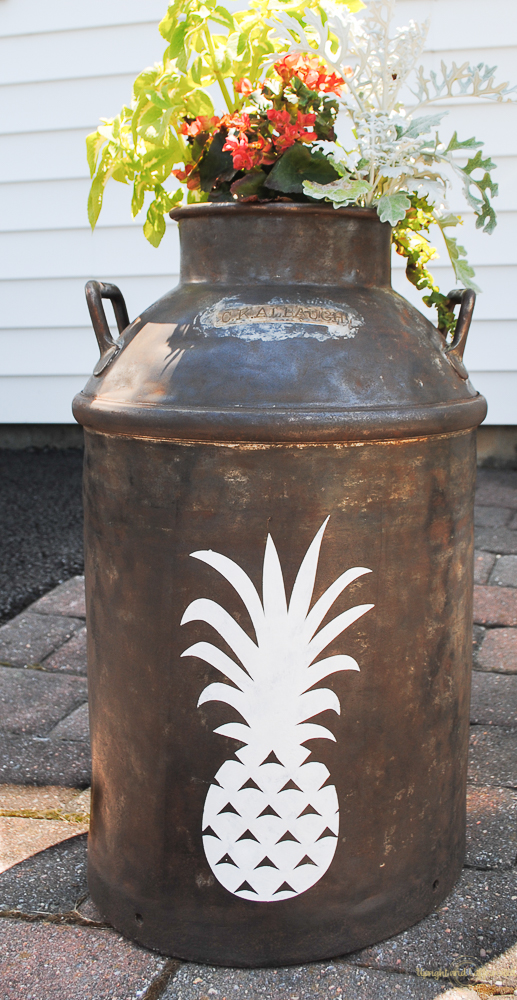 First of all, I have to tell you all how much I love shopping at auctions for vintage finds for my home.  Seriously- auctions are the absolute BEST place to find quality furniture, antiques and rustic decor.  Want a FREE auction guide ebook?  Click here to grab your copy! 

Pineapple Milk Can Planter
This post includes affiliate links to products.  I may receive a commission if products are purchased through the provided links.  My full disclosure statement can be found here.
Hopefully you can find a milk can at a local auction or maybe your family had a dairy farm and you just have one lying around.  If not, you can always purchase a vintage-looking milk can from Walmart- YES, Walmart sells them (in a variety of styles and colors too!).  And Walmart has free shipping *I'm not getting paid by Walmart, I just like shopping there*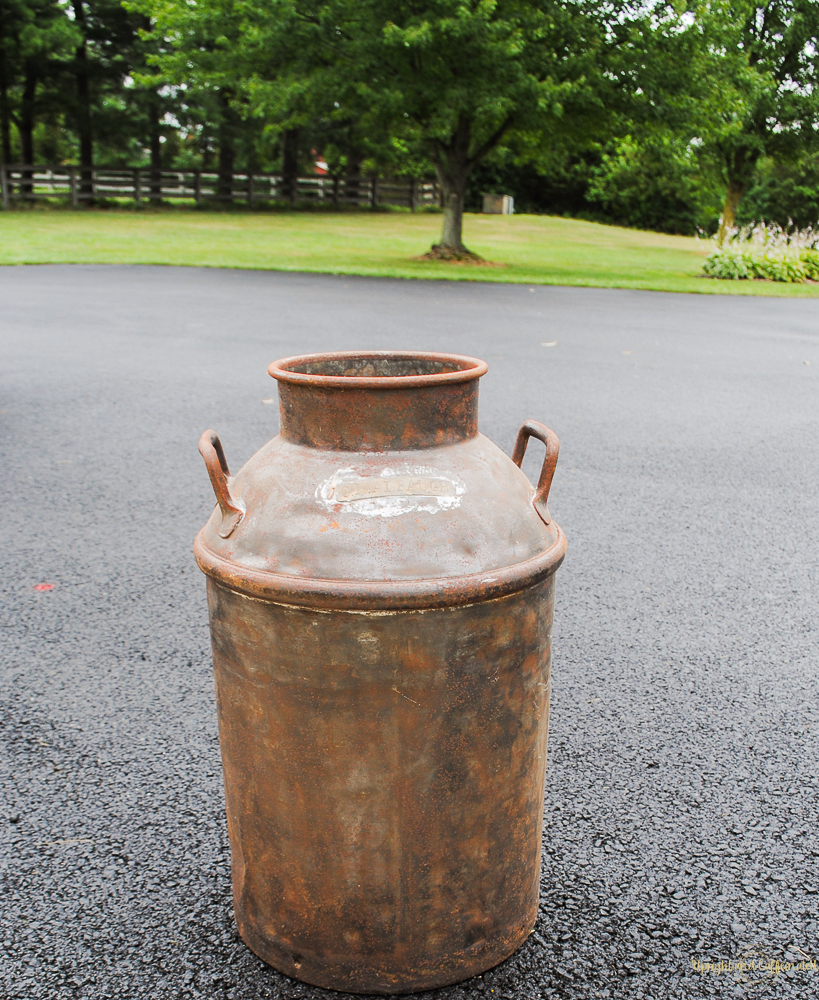 You will also need the following items:
How to Make a Pineapple Milk Can Planter
If you are using a vintage milk can that is covered in rust (like mine), you will want to knock some of that rust off.  I used a wire brush on a disc grinder to remove some of the rust.  If you do this, make sure you use protective eye wear and gloves!  Next, clean your milk can with a vinegar/water solution and a clean rag to get all the rust off.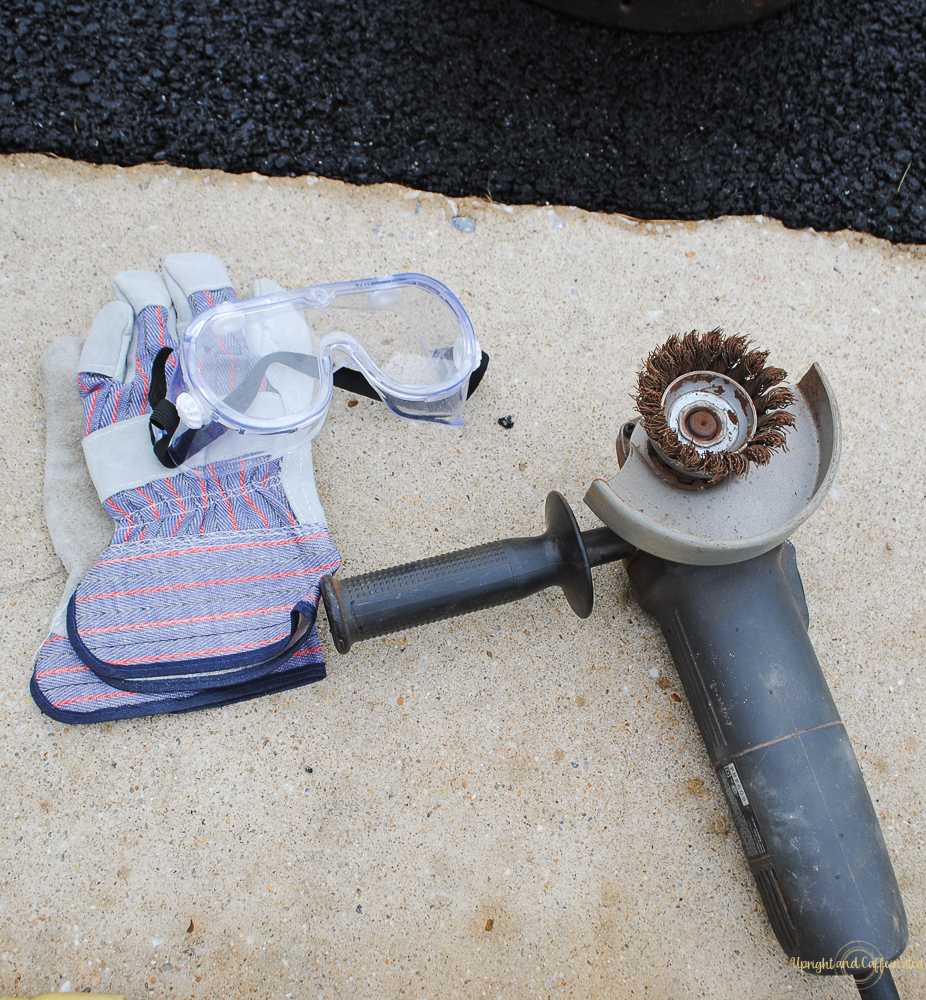 Now you are ready to stencil!  I purchased this pineapple from Cricut Design Space and cut my stencil using my Cricut Explore Air 2.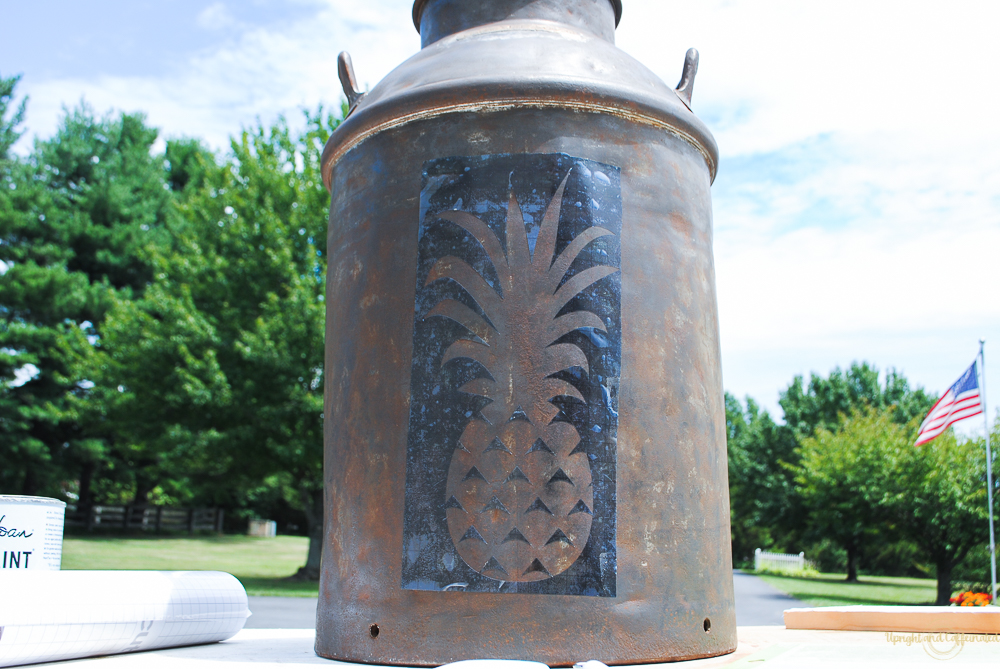 Using transfer tape, transfer the stencil to the milk can.  Next, carefully remove the transfer tape.  Begin painting with the foam brush.  Use a very light coat of paint.  I actually ended up painting two coats of paint for this project.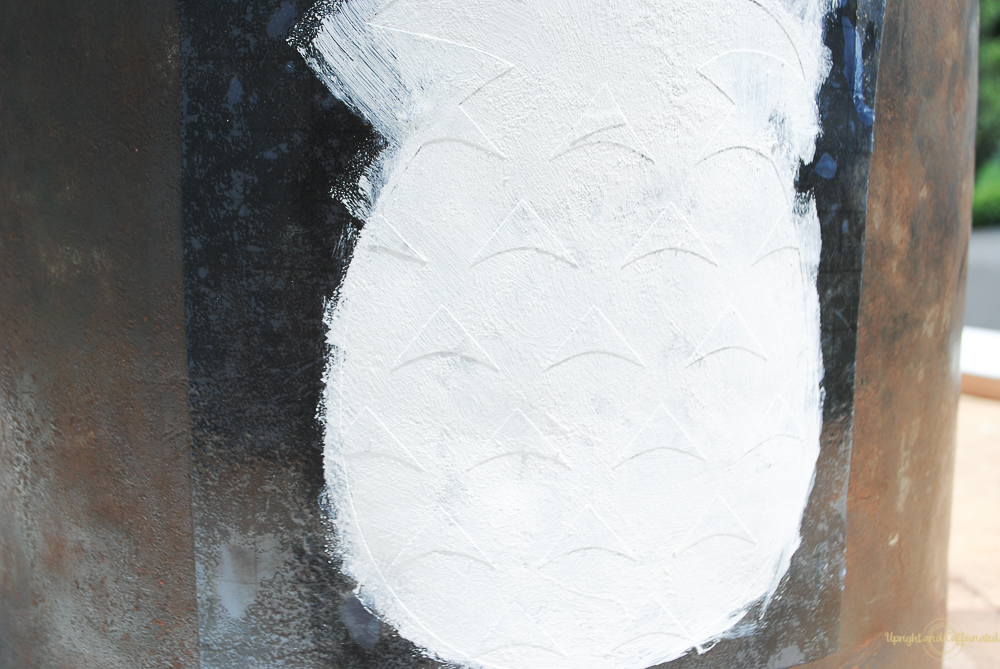 Once your paint is dry, carefully remove the stencil material.  For the little pineapple spikes, you will definitely need to use an exacto knife!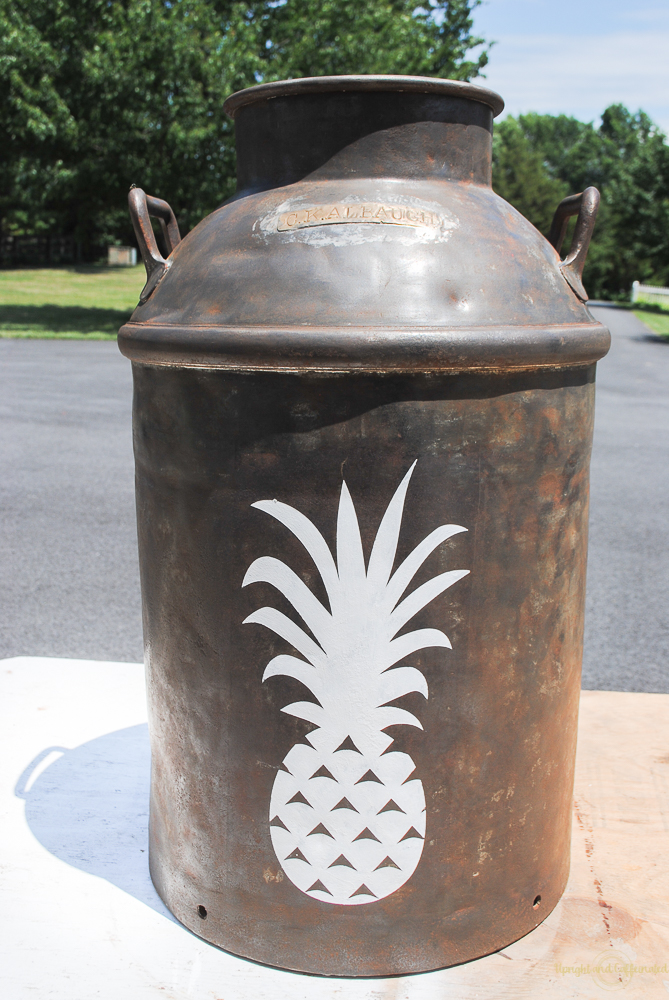 Finally, find a great place and a beautiful plant to put in the top of your milk can. Luckily I happened to have a pot that fit perfectly in the top of the milk can, but If you don't, you can find all kinds of pots in different sizes at home depot or walmart.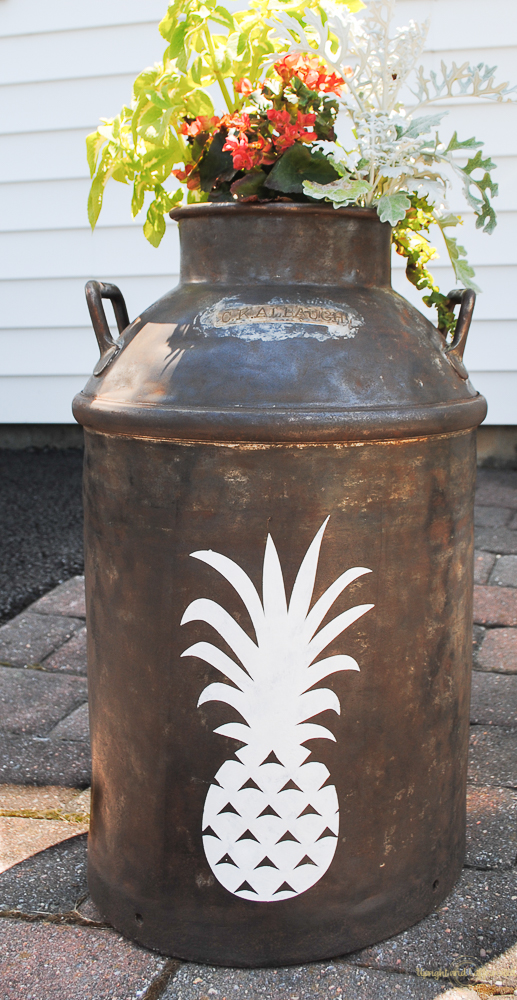 Want more pineapple inspiration?  Check out this post on my favorite pineapple home decor for summer!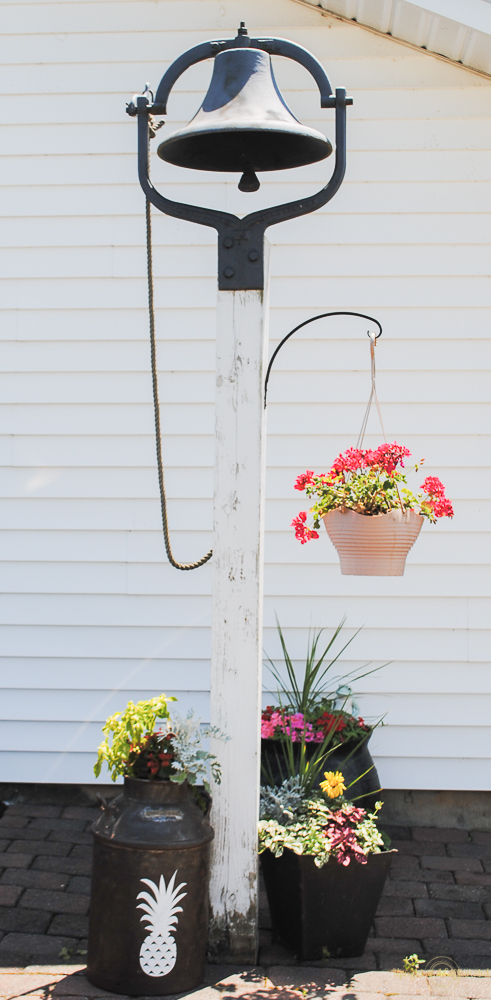 I love how this planter turned out.  The addition of the pineapple makes this milk can stand out.  The pineapple symbol is a great way to welcome visitors and guests to your home, so why not greet them with a lovely, vintage planter!
Don't forget to check out these other talented bloggers' pineapple posts!

Check out all the other Pineapple tutorials here:

Craftivity Designs | Pineapple Tablescape and Printable Menu
The Vanderveen House | Pineapple Pillow Cover
Upright and Caffeinated | Stenciled Pineapple Milk Can Planter
Our Home Made Easy | Summer Pineapple Printable
Woodshop Diaries | DIY Carved Wooden Pineapple Spoon
Hey Lets Make Stuff | Pineapple Candy Pouch Card
Happiness is Homemade | DIY Pineapple Candle
Mahles Market | Free Pineapple Printables
Sustain My Craft Habit | DIY Pineapple Succulent Mason Jar Planter
Casa Watkins Living | Pineapple Inspired Wine Charms
Our Crafty Mom | Pineapple Flour Sack Tea Towels
Sense and Serendipity | DIY Driftwood Pineapple Welcome Sign
Not Just Paper and Paint | Pineapple Casserole Recipe
PMQ for Two | Pineapple Wine Charms
Wife in Progress Blog | Homemade Pineapple Sugar Scrub
PIN IT ⇓