I'm so excited to share our $50 laundry room makeover with you!  We are currently renting our town home in Alexandria, VA.  It's a picture-perfect town home that you'd typically envision when you think of Alexandria.  We love our town home, but since we are renting, we have restrictions on what we can change.  This was certainly a challenge, but we were able to accomplish a $50 laundry room makeover in a rental.
This post includes affiliate links to products.  I may receive a commission if products are purchased through the provided links.  My full disclosure statement can be found here.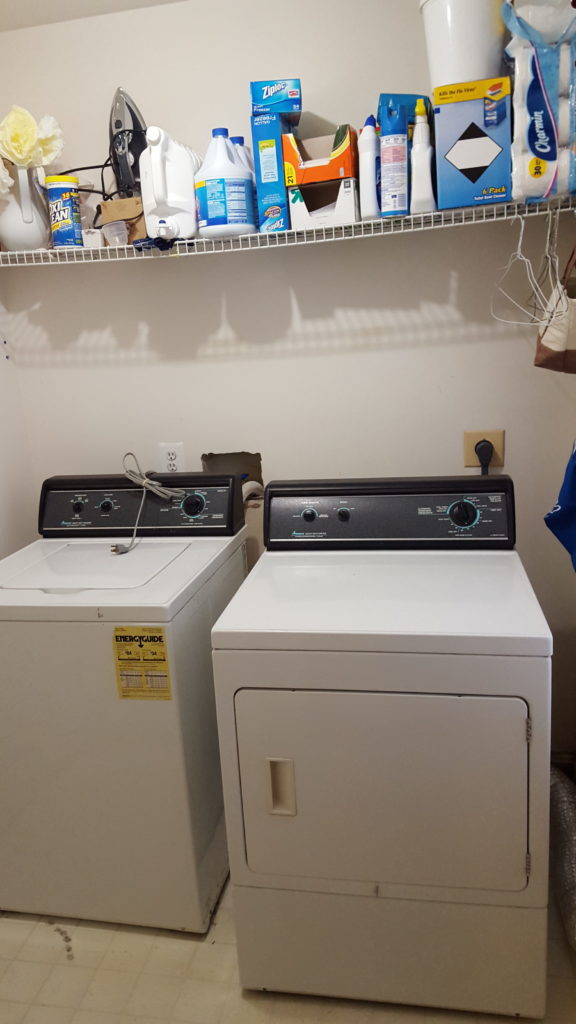 We had a little unfortunate incident with a leaking pipe behind the wall in our laundry room. After the professionals fixed the leak and wall,  I took this opportunity to make over our laundry room since everything was moved out of the space and the entire room needed a coat (or 2) of paint anyway.
I will preface this by saying that if you are renting GET YOUR LANDLORD'S PERMISSION BEFORE MAKING ANY CHANGES TO THE PROPERTY!  Now that we have gotten that warning out of the way…
$50 Laundry Room Makeover in a Rental
Paint- FREE- I used what I had! I painted the walls with two coats of Behr natural Gray.  I had plenty of this paint left over from when we painted the boys' rooms and our laundry room is so small, so I didn't even need to purchase new paint!
Shelf- $30- We had one of those basic white metal shelves that you see in most builder-grade laundry rooms or closets.  I bought a 6 foot piece of wood from Home Depot for $15 and then five "L" brackets and screws.  For my corner shelf I used a piece of plywood that I already had.
Baskets- $12- I bought two ALGOT wire baskets from Ikea to contain all of my stuff on the shelf!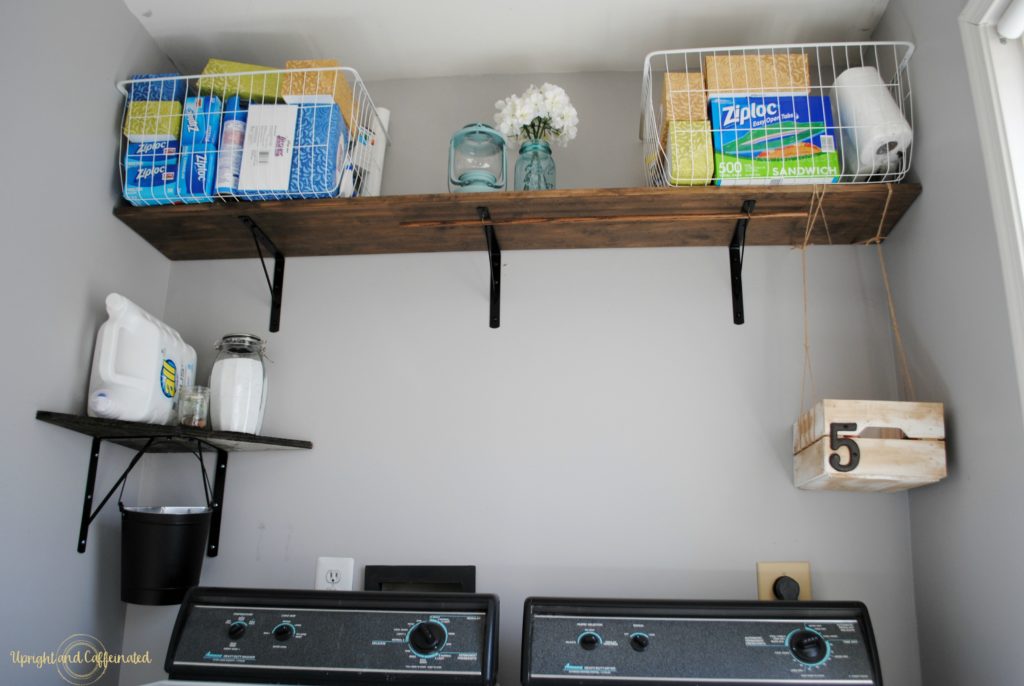 Small Crate- $4.99- I bought a small KNAGGLIG crate from Ikea and use that for holding my dryer sheets.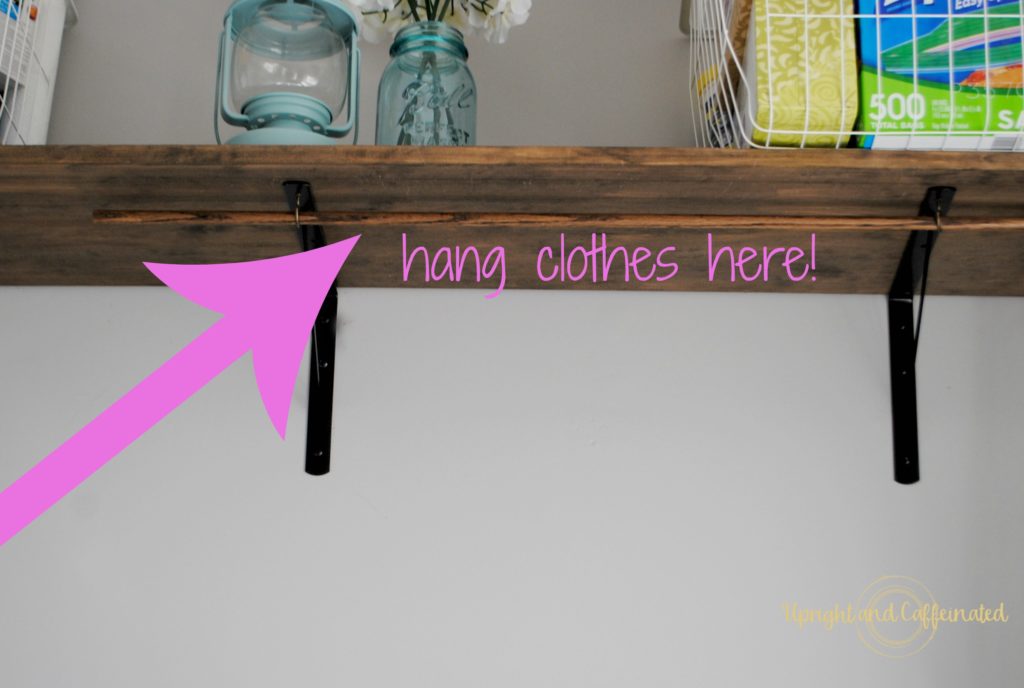 See that little bar?  I found a wooden rod in our garage and attached it to the bottom of the shelf with two hooks.  Now I have a place to hang clothes in the laundry room!
For under $50 I was able to completely change the look and feel of this room.  It went from a sterile, boring laundry room to a warm, stylish and beautiful room.  This is definitely a fabulous $50 laundry room makeover.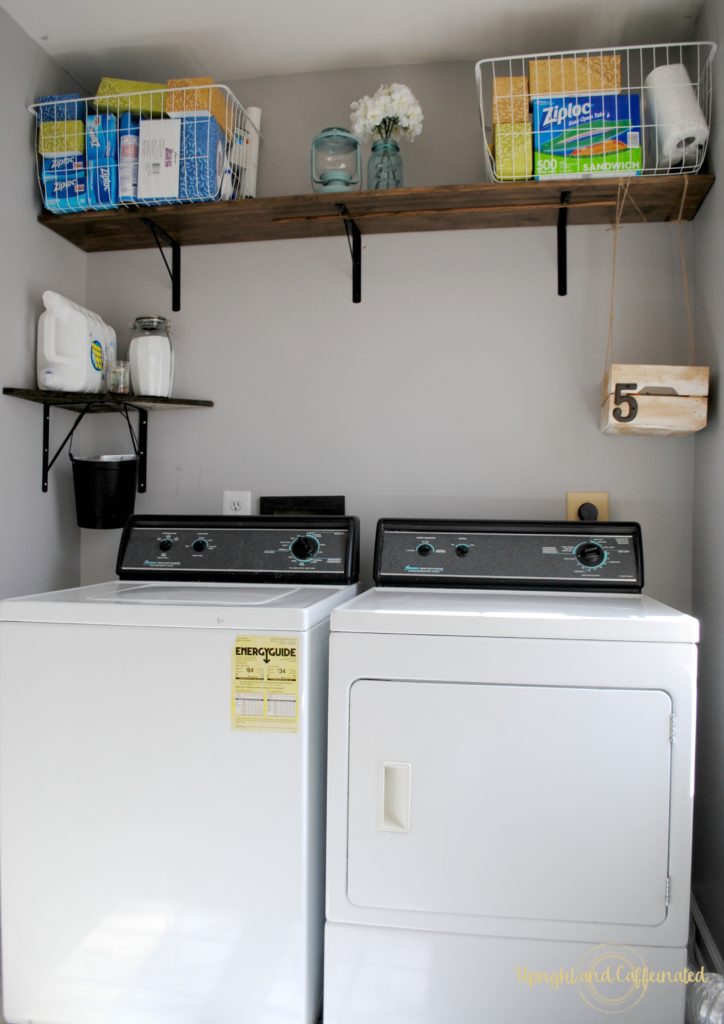 All of the decorations I re-purposed from elsewhere in our home.  This makeover has made such a difference.  I know its just a laundry room, but I have to go in there every day.  The way I see it: If I have to do laundry, I want to do it in a pretty space.  Now I have a pretty laundry room to wash, dry and fold!
PIN IT ⇓